Post by Tanner / Ogilvie on Jan 4, 2012 13:41:53 GMT
Spun off from the Sonic 4 thread to avoid cluttering it.
Love him? Hate him? Indifferent? Share your thoughts and your reasonings here if you feel so inclined.

The last bit of the discussion I was having:
Not that complexity or lack thereof make something good or bad, of course.
Fairly straightforward backstories can be appealing.
and the whole 'loyalty' thing holds no water for me either. He just comes across as really [censored]ing gullible.

"Destroy the world Shadow"
"okay Maria lol"
"No, save it Shadow"
"okay Amy lol"
Umm... that would seem like devotion to me. Like what you'd have towards your parents or lover. They request you to do something, and out of your love for them, you do. It's frustrating... but you still do it.
Also, Shadow gullible? That's laughable. He's possibly one of the most manipulative of the Sonic villains: when Amy tried to convince Shadow to help, he stated, "It's all going according to plan." He knew all along the ARK would crash into Earth and kill everything on it, and manipulated Eggman accordingly. Eggman is the gullible one.
Of course, he promptly discovered his intentions didn't match Maria's desire(one can even argue he subconsciously altered his memory - after all, seeing his best friend killed could sometimes give you a "they all deserve to die" mentality), and promptly changed them.
He isn't deep or emotionally damaged because everyone around him keeps dying (literally one person has so far), they just thought it'd be cool to cash in on the '90's obsession with dark anti-heroes who aren't afraid to kill.
Well that's out of canon. But I like my in-canon reason better. The out of canon reason Sonic never cries is because Sega doesn't want him to be wimpy. The in-canon reason is he's too strong or some nonsense.
Also you're forgetting Gerald. Maria was his sister/mother figure, and Gerald his father figure. They were all he knew - he was all alone, and anyone who wanted anything to do with him saw him as a weapon - GUN, Eggman, Black Doom, all of them. (once again, I could see him and the good Fleetway Super getting along very well) Proportionally, he lost 100% of all those he cared about, and the closest thing he had to a family.
His bitterness and more cold attitude are easily explained by a life that has been a constant story of loss, betrayal, and exploitation. He has grown tired of weeping over the past and being pushed around, hence his recent change in attitude.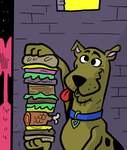 ...wait what. I thought only the events of the pure good story were accurate?
They never did elaborate which of the storylines was canon, did they?