Post by Arch on Jun 22, 2012 13:36:18 GMT
Everyone remembers the likes of Running Wild, The Sonic Terminator, The Final Victory and The Revenge of Trogg - multi-part serials with high drama, great art and the occasional humour. Strips like these have been dissected and argued over for nearly 20 years now!
However, they're just a tiny portion of the content Sonic the Comic gave us throughout our childhood. The rest stems from the frequent duff one-shots to underrated Sonic's World strips. There are people who outright didn't read the non-Sonic pieces, whilst others were put off by artwork not to their liking. For whatever reasons, the majority of strips have been forgotten by the majority of us.
I've set up this thread to discuss which of these stories - the ones that don't keep on appearing in the "best of" lists - were your personal favourites or maybe deserved another part or two. I'll kick things off by pretty much picking some of these out and random and throwing them open for debate. Everyone's views are definitely welcome!
===
The Rampage of Mekanik
Issues 57 to 58
Written by Lew Stringer, drawn by Nigel Kitching, coloured by John Burns and lettered by Elitta Fell.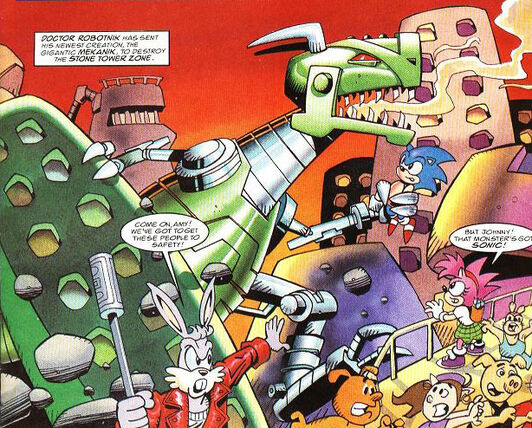 It's easy to forget this 2-parter, occurring pretty soon after the epic Death Egg saga and followed straight on by the Metallix and Brutus acts. On the outside, it's easy to see why it's so forgettable. Robotnik builds a giant robot to cause some destruction but is eventually felled by the heroes. It's hardly original, but there are a few quirks to make it slightly memorable.
Robotnik's trip to the deserted Emerald Hill Zone is an incredibly striking opening and suggests how quickly the evacuation to the Floating Island must have been carried out. After a bit of moping, we get our first look at the Stone Tower Zone, one of my favourite non-Sega locations and criminally underlooked (at least it returned in STC-O). The dictator unleashes Mekanik, a truly menacing foe. Unfortunately, this is where it gets silly. The Freedom Fighters just happen to be visiting an unimportant Zone and have heard "the rumour" about something that appeared seconds ago. Sonic discovers that Mekanik's armour is tough, suggesting that the dinosaur is the second character to be coated in Megatal in 10 issues (and will be quickly followed by Brutus).
Speaking of which, Shortfuse suddenly opts to investigate Badnik activity in this unimportant Zone and sees the carnage before the gigantic Mekanik himself. It's times like this that I feel very little sympathy for Lew with regards to his critics. A great fight scene breaks out, with two teams of two using interesting tactics to confuse and surround Mekanik. It's definitely much more welcome than watching Sonic spin attack everything in sight and it's a shame it's over as soon as it begins. The "indestructible" Shortfuse seems to die and Sonic begins his two-week-long death.
Elsewhere, Johnny abandons the people in the middle of the battlefield. Shortfuse reminds us that's he's a good Badnik for the first time out of four thousand and this story's getting incredibly grating now. Mekanik has decided not to roast Sonic alive and goes to eat him, which is a rubbish tactic. The story suddenly improves with the banter between Sonic and Shortfuse - we haven't yet had a hero with the ego and temper of Sonic (barring maybe Knuckles) and Shortfuse shows what happens when somebody eventually does match him for arrogance. Despite being a new hero, he seems to want the admiration and appreciation that Sonic receives, even though the other heroes don't get any. Interesting is that Stringer seems to have created his own Sonic here, probably suggesting why he had so much of a fanbase.
It's a pretty nifty plan of Sonic's to get into Mekanik but the idea to tear him apart from the inside seems too similar to "The Green Eater", where Sonic took the battery out instead of wires. I'm surprised Sonic didn't decide to use Mekanik as a temporary house for the now-homeless people of Stone Tower.
Finally, we get a teaser for Project Brutus, so it's not such a pointless story after all.
Although there's plenty of negatives that come along with it being an early Lew story, there's plenty in this that I like to keep coming back to, particularly the team dynamic. The flanking tactics of a team hopelessly outpowered appeals to me. I feel that Tails could have easily replaced Shortfuse (the excuse that he was in the Special Zone was ridiculous) but I do like what he brought to the strip. Mekanik was a bit rubbish, not really fulfilling his job description of destroying things.