Post by Chigs! on Jun 3, 2013 10:23:41 GMT
Just thought I'd start a seperate thread to highligt the fantastic work on this new project, a collaboration with loads of exciting artists to re-tell a potted history of the STC universe! Hopefully this will build into a great library of artwork to both delight nostalgic fans and educate new readers to the comic. So, without further ado...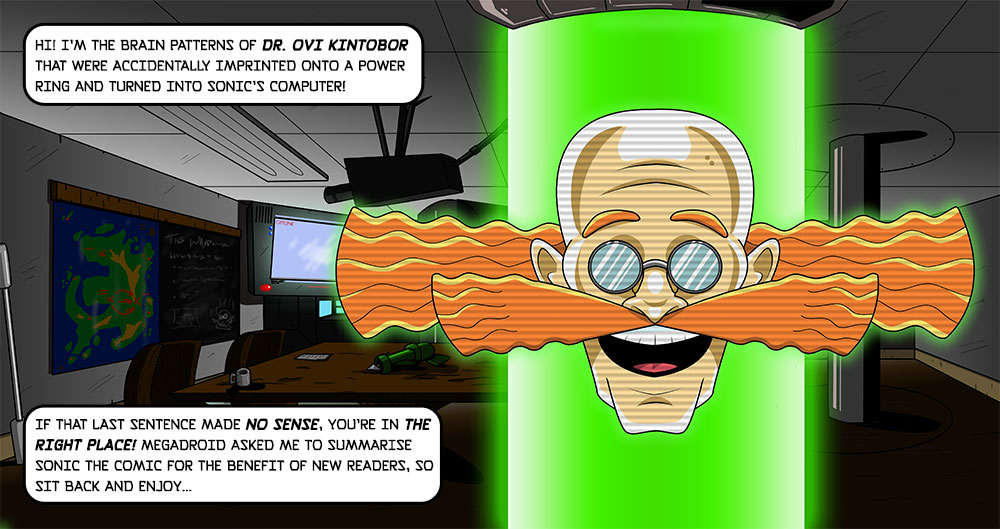 Art by Adam "T-Bird" Tuff
This is the
Kintobor computer
, part time narrator and super computer of the freedom fighters. he made his first appearance in issue #6 and who better to guide us round the history of the STC Universe than the original star of the Sonic's World strips? You can read up more about the kintobor computer
here.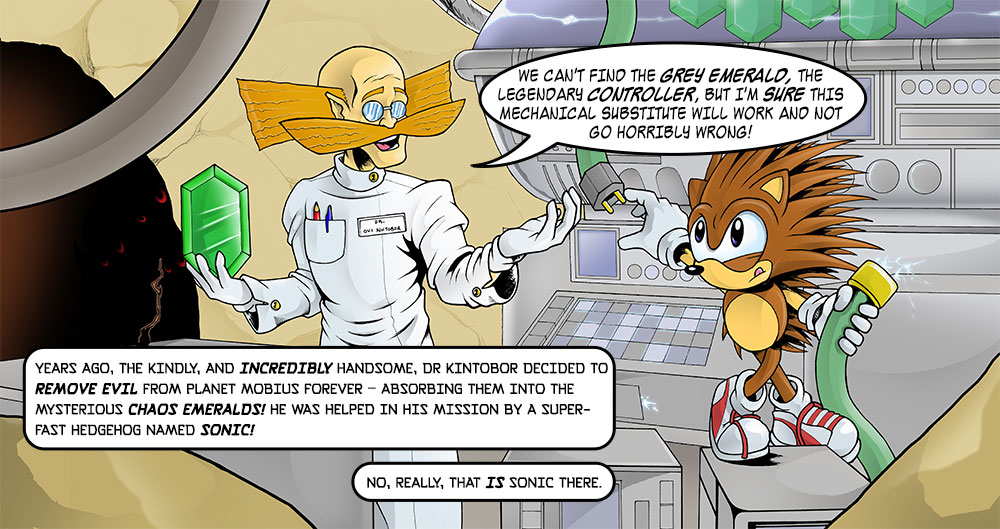 Art by Michael "Stiv" Stephenson
This panel represents the story
"The Origin of Sonic"
) from issue #8 - but what could those be lurking off to the left there? More importantly, what might they be doing here...?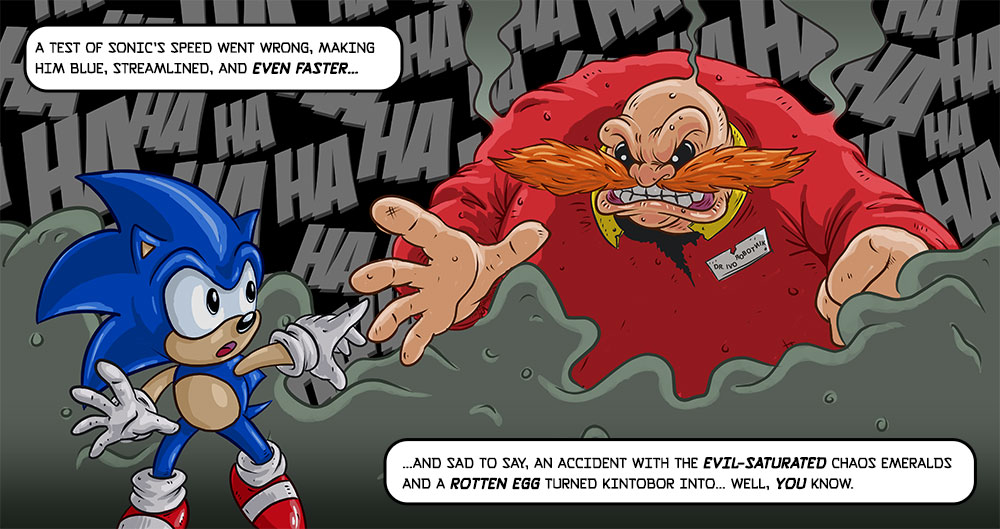 Art by Michael Corker
This is also referencing the classic moment in issue #8's "The Origin of Sonic" where the letters on the kindly
Ovi Kintobor's
labcoat rearange (along with the rest of him!) into the diabolical
Doctor Ivo Robotnik
! Well that's me getting no sleep tonight... :S For all you fact fans out there, Sonic and Robotnik's origin stories are adapted from the guidebook
"Stay Sonic"
published in the UK in 1993 by Fantail.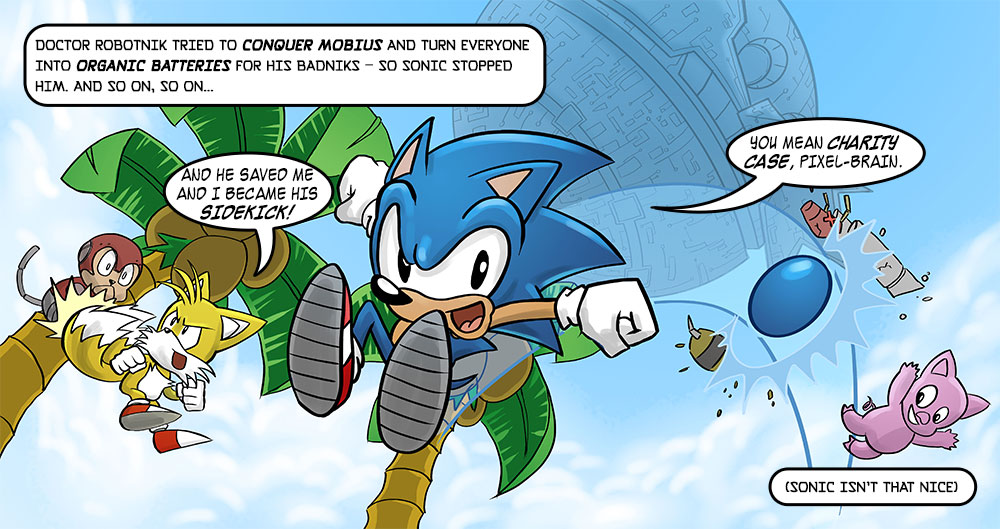 Art by Jin Chan Yum WaiMiles "Tails" Prower
(
Miles Prower
? Geddit?

) is here referencing the first time he met sonic, recounted in issue #27's Sonic's World Story
"A Tale of Tails"
which very loosely adapts some of the events in
Sonic the Hedgehog 2
, hence the Death Egg looming in the background. Sonic is using one of his more well known put downs for Tails in the form of "pixel Brain" to demonstrate his charming personailty quirks. The Cameo at the bottom right there is a little piggy we'll be seeing more of later -
Porker Lewis
!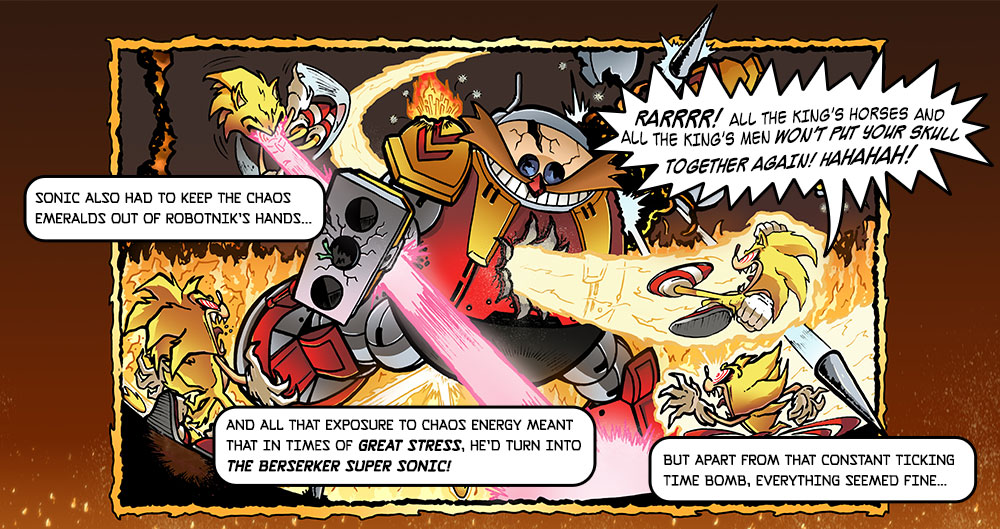 Art by Jon Gray with Pete Murphy
Well, as some of you might be aware of already, this panel features art by
Jon Gray
, most notable to us lot as a penciller for the Archie produced
Sonic the Hedgehog
comic series. His first issue for Archie was way back in 2003, (Hey! Same year as STCO kicked off!

) and we're very grateful for his contribution to our little project! Who better to let him loose on than probably the one character that even fans who aren't that familiar with STC have heard of, its ol' "Fleetway" himself:
Super Sonic!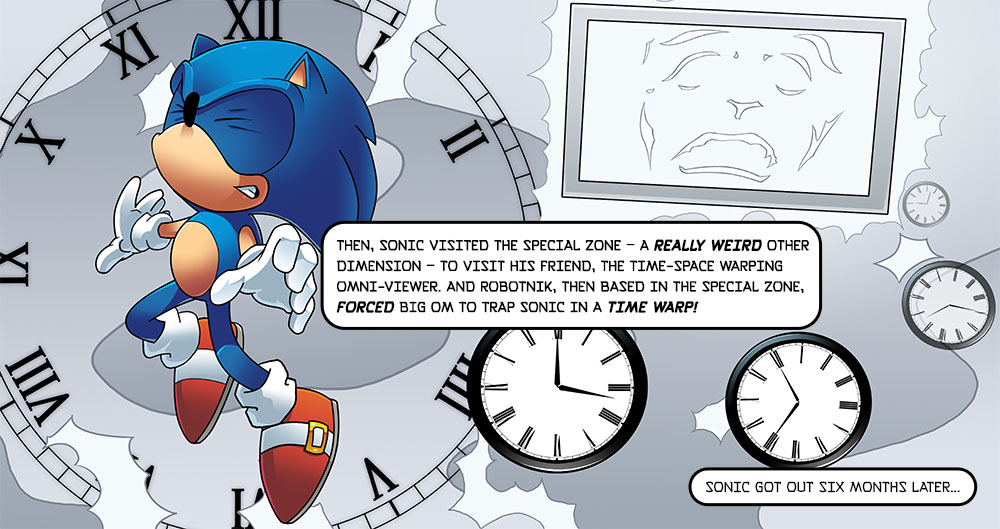 Art by Pete Murphy
Here we have the debut of the
Omni Viewer
who made his first appearance in issue #8's "The origin of Sonic" helping the cool blue one retell the stories of himself and Dr Robotnik to Tails, Porker and Johnny Lightfoot, before seemingly betraying them to old egg breath! Issue #9's follow up strip
"Back to Reality"
revealed that while he was under Robotnik's rule at this time, he was still able to subvert the order to get rid of the gang, hence only moving them 6 months into the future. See? He's a good guy really!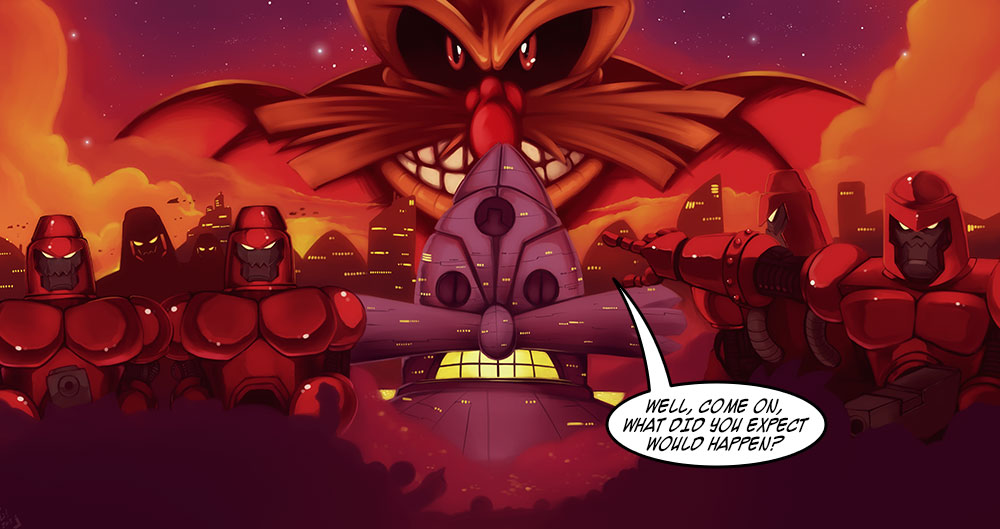 Art by Dean Shanghanoo
This panel encapsulates Robotnik's reign of terror as the dictator of Mobius, a period of time commonly reffered to as
RBR
(Ruled by Robotnik). This was the comic's status quo from issue #9's "Back To Reality" all the way up to issue #100's "The Final Victory." Robotnik had many bases of opeations during this time but seen here is
Citadel Robotnik
, which made its debut in issue #55.
Trooper Badniks
were also first seen in issue #9 and appeared more often than the game badniks as Robotik's primary cannon fodder in the comic through this period.
Art by Marcus Stockley
The founding members of the
Freedom Fighters
are represented here. Sonic and Tails we've talked about a little bit allready;
Porker Lewis
made his debut in the very first issue story "Enter: Sonic", while
Johnny Lightfoot
didn't get a named appearance till issue #8, although an un-named rabbit character which might be interpreted as him did crop up back in issue #5's story "Lost in the Labyrinth Zone". Both Porker and Johnny are based on the animals critters rescued at the end of the classic game levels, and owe some of their design to early concept art for the "Sonic the Hedgehog" saturday morning cartoon series (or SatAM for you acronym fans!)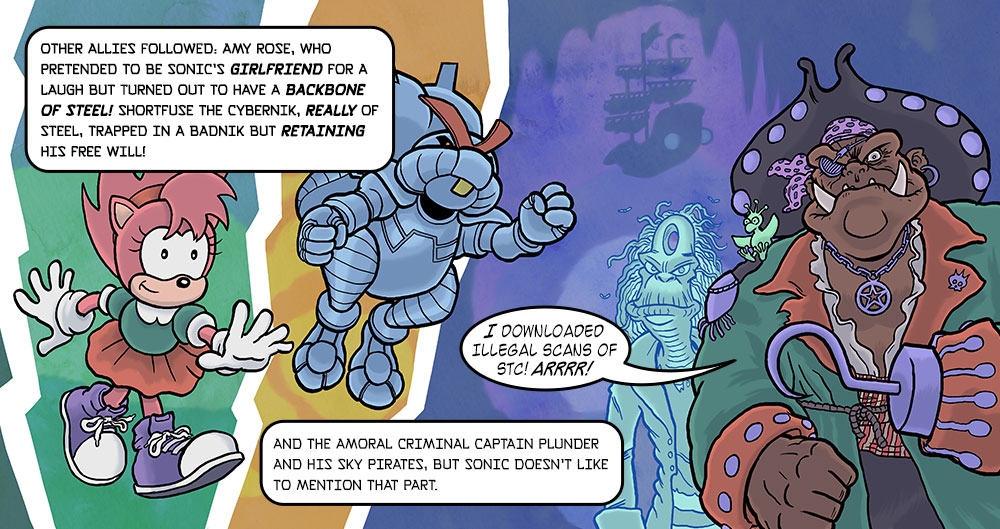 Art by Matthew Bramble
Here we have a cavalcade of STC stars, starting with
Amy Rose
, inspired by the character who first appeared in
Sonic CD
, and who made her STC debut in issue #21's "Girl Trouble. Next is Shorty the Squirrel who becomes the doomed (to repeat himself) hero
Shortfuse the Cybernik
in issue #45's Sonic's World strip "Enter the Cybernik" and Last but by no means least is
Captain Plunder
and his first mate
Filch the ghost
, who both made their first appearances in issue #23's "Pirates of the Mystic Cave."
Art by Carl Flint
Stc alumni
Carl Flint
worked for most of Sonic the Comic's print run, first as a cover artist before moving on to several Tails stories and a few Amy Rose ones as well. Here we've asked him to highlight some of STC's rouges gallery and Robotnik's redesign which first appeared in issue #22. The doc's chums include
Grimer
, who made his debut in issue #21,
Metallix
(STC's name for Metal Sonic!) who first appeared at the end of issue #22's "Girl Trouble" and
Metamorphia
, who we saw for the first time in her self titled story in issue #30! Also featured is
Nutzan Bolt
who fought Tails on a couple of occasions starting in issue #35's "Zoneruner & The Flock" and Grouchio Marxio, of the Marxio Brothers, who turned up for the first time in issue #18's story "Casino Night" - quite the evil group shot!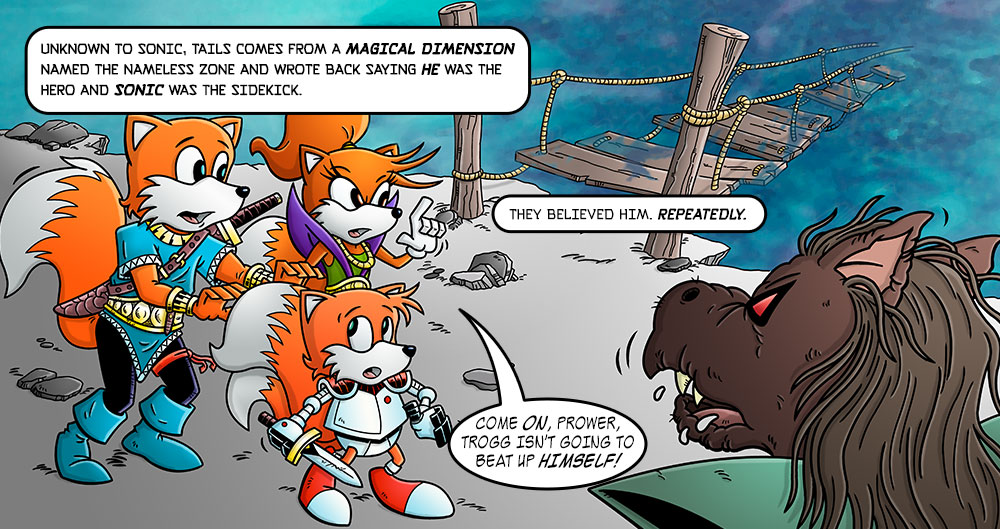 Art by Dave Windett
This panel features art by
Dave Windett
who has very kindly returned to draw the characters he drew for the first Nameless Zone stories starting way back in issue #16! Tails is wearing his enchanted armour to fight
Trogg
by the dimension bridge to The Land Beyond and is being egged on by
Errol Blackthorn
who assisted Tails from issue #18 and his sister
Morain
, who arrived on the scene much later in issue #59's "The Revenge of Trogg"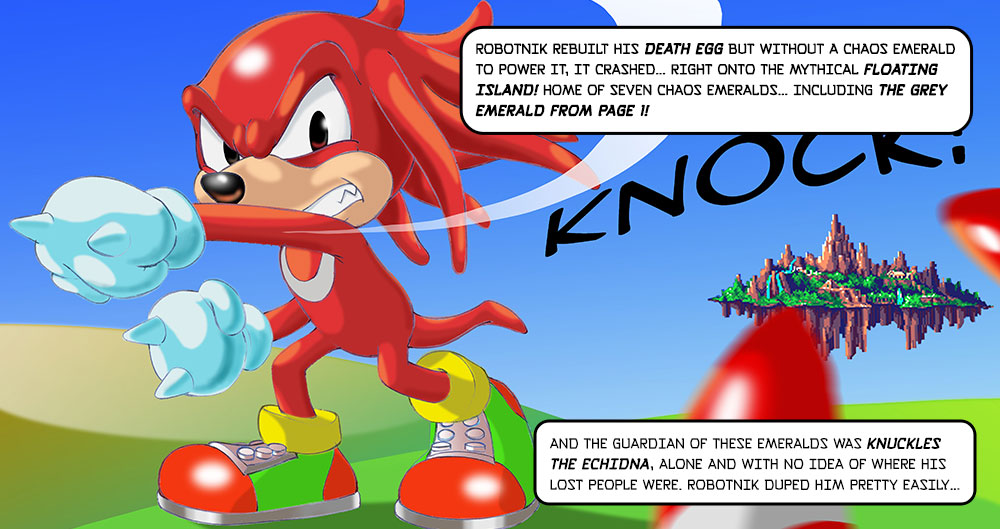 Art by Ferran Rodriguez
Early STC artist
Ferran Rodriguez
contributed this panel of
Knuckles The Echidna
bowling Sonic and Tails over in their first meeting in issue #33 - in the background you can see the floating island which actually made its debut (along with knuckles) in a prologue story printed in Sonic the Summer Special called
"Guardian of the Chaos Emeralds"
where Robotnik first meets knuckles and warns him of the "evil" sonic the hedgehog...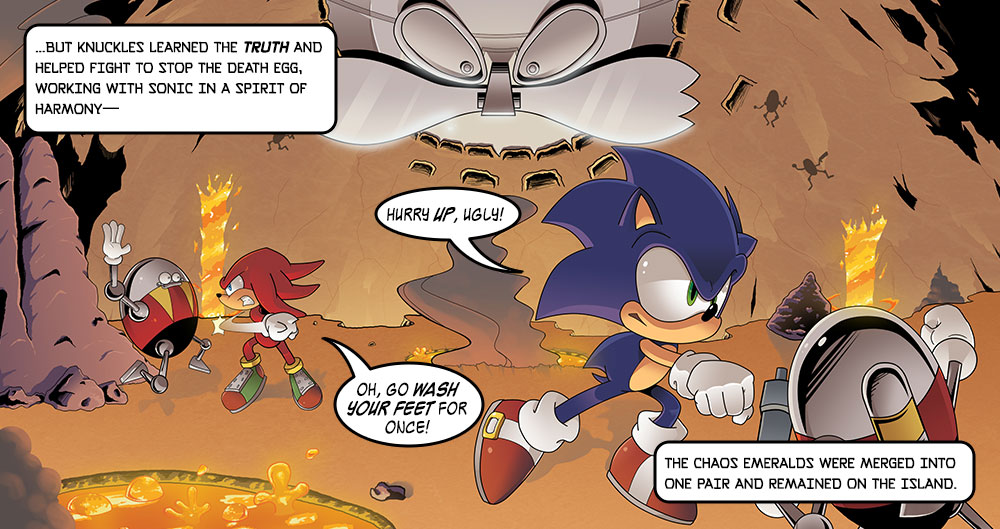 Art by Pete Murphy
Here is a retelling of issue #49's "
Countdown to Disaster
" with Sonic and Knuckles putting aside their differences (just!) to combine against the bigger threat, namely Robotnik's newly rebuilt
Death Egg II
! This two parter, combined with the follow up 3 part "
Disaster
" form a loose adaptation of the closing events in the videogame
Sonic the Hedgehog 3 & Knuckles
.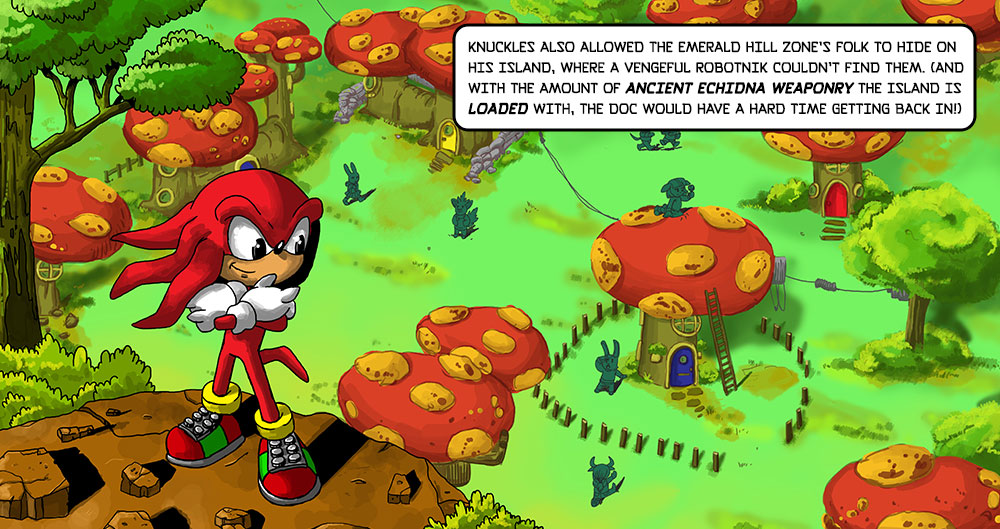 Art by Marcus Stockley
This is Knuckles guarding over the Emerald Hill folk who evacuated to the
Mushroom Hill Zone
on the floating Island. First mentioned in issue #55, the destruction of the Death Egg II in issue #53 resulted in Robotnik being in an even more vindictive mood than usual! Sonic's Deal with Knuckles was meant to protect the inhabitants of his hometown, as Robotnik wouldn't know where they were hiding - In actual fact the Emerald Hill folk remained here until issue #104 when they returned to their original village. (but we'll probably get to that later!)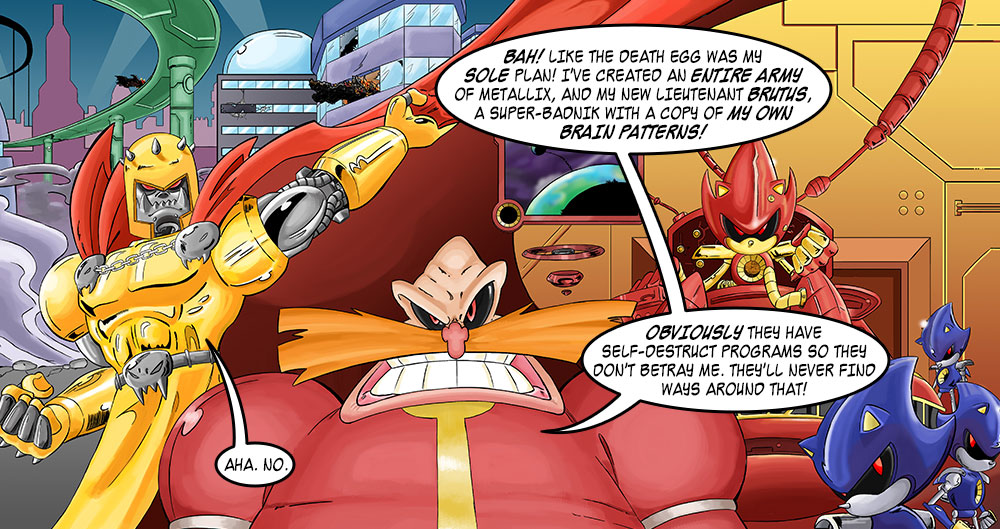 Art by Seumidh "Shay" MacDonald
Here we have a couple of the bigger suporting villains in STC's rogues gallery.
Commander Brutus
made his first appearance in issue #66's "Project Brutus" and was an upgraded
Special Badnik Service
trooper model, created as a deputy for Robotnik, but with ambitions of his own. The Metalix Army is better known as
The Brotherhood of Metallix
, first mentioned in passing in "Countdown to Disaster." The brotherhood's actual first appearance, along with their leader the
Emperor Metallix
, is in issue #55's Knuckles story "
Total Chaotix
," where their base in Robotnik's old special Zone fortress are uncovered.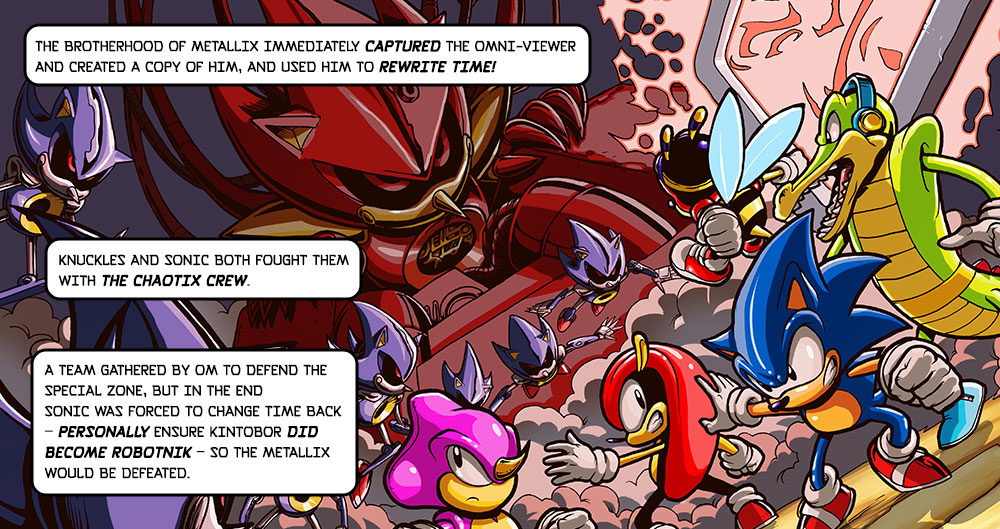 Art by Zak Simmonds-Hurn
Sonic is joined here by the
Chaotix crew
for this retelling of the events covered in the story "The Return of Chaotix" taking place during issues #67-72, but Sonic actually first met the rogue robots as a group in "
The Brotherhood of Metallix
" taking place in issues #59-62, which followed on directly from the Chaotix making their debut and meeting Robotnik's creations along with knuckles during issues #53-58. Originally assembled by the Omni-Viewer (remember him?) in order to dismantle Dr. Robotnik's operations in "the Nightmare Country", this team of heroes operated mostly in the Special Zone and were self appointed guardians for the crazy dimension. Apart from "
Omni
", Chaotix consists of brainbox
Vector the Crocodile
, the super strong
Mighty the Armadillo
, stealthy ninja
Espio the Chameleon
, and the downright ditzy
Charmy Bee
. Due to the revisiting of Sonic and Robotnik's origins yet again via the time travel element in this story, you might want to check out panel #2 of the timeline again to see if you can now spot any hidden easter eggs that were tucked away before!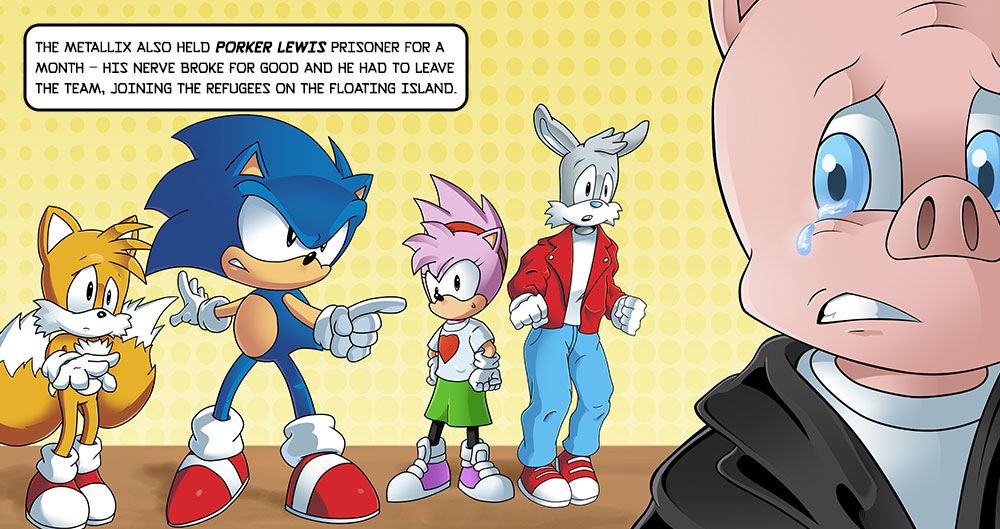 Art by Pete Murphy
Following the events of the Brotherhood of Metallix saga,
Porker
quit the Freedom Fighters in issue #76's "
The Big Decision
", and went to live in the Mushroom Hill Zone with the rest of the Emerald Hill Folk. Sonic acted like a bit of a hot head about the whole thing, but was only behaving so harshly towards Porker because he didn't really want him to leave. Surfice to say, by the end of the story they were friends again and despite being effectivly "retired" in this story, Porker has in fact gone on to have many further appearances in the comic and become something of a sidekick for Knuckles, helping him explore and understand the ancient technology of the Floating Island. Not bad for the little pig from New Tek City! (But that's another story...) As an aside, Amy looks rather different to how you might recall she did on panel 9 - this is due to her becoming much more tom boy from hanging around with the freedom fighters all this time - clearly that Sonic fellow is a bad influence!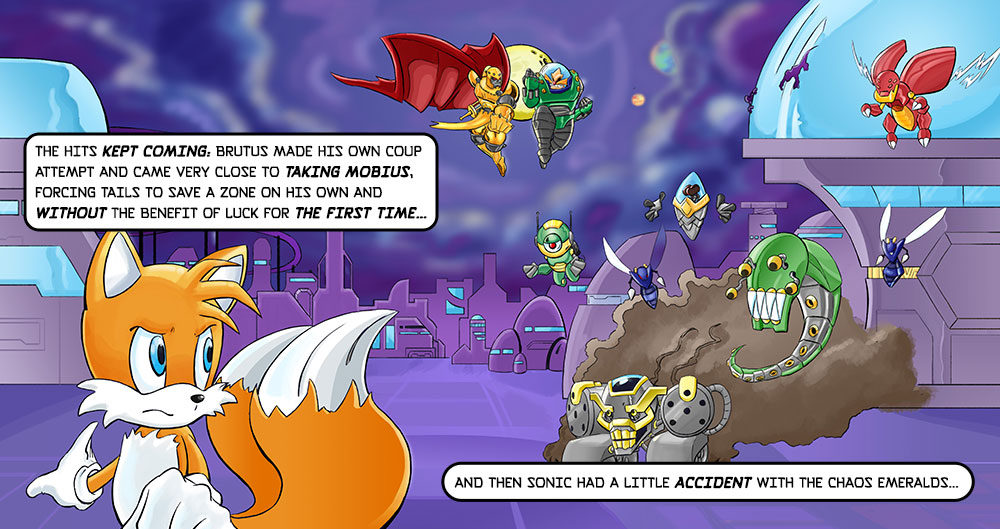 Art by Seumidh "Shay" MacDonald
This panel plays a little bit fast and loose with what actually went down during the Brutus Coup attempt, what with Tails not actually being present for any of the story "
Revolution
," that began in issue #79 and saw Robotnik's second in command try to overthrow the dictator with his own army of loyal Badniks, let alone the climactic punch up between the robotic general and a battle suit wearing Robotnik! However, running concurrently with this story was a cluster of Tails strips starting with issue #79's "
Grounded
" through to issue #81's "
Shock Tactics!
" which included Tails defending the
Casino night zone
against attacks by the power mad machine's flunkies and did end with him heading off to help the rest of the freedom fighters at this battle, so consider this a teeny bit of artistic licence!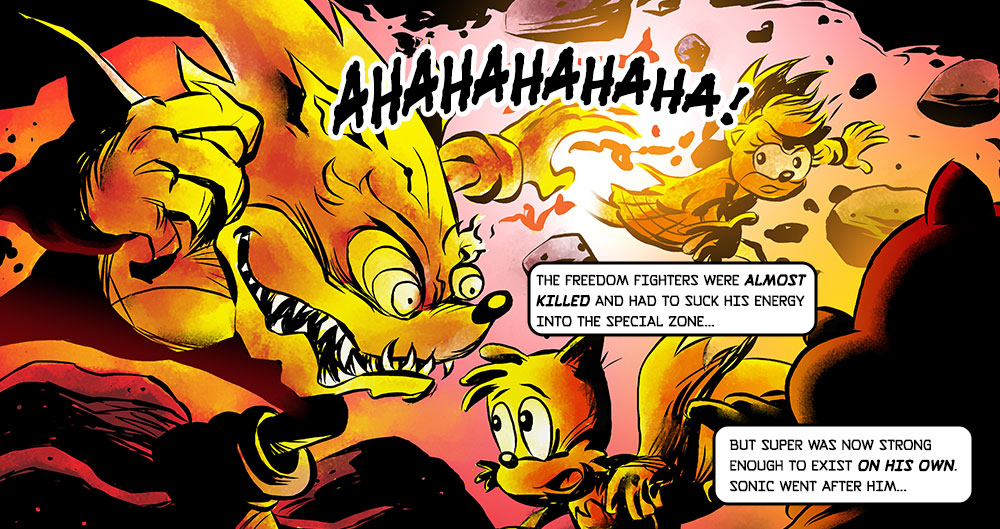 Art by Nigel Kitching
So some of you may perhaps have heard of this chap called
Nigel Kitching
who may have come up once or twice in conversation... to the uninitiated, he's a writer and artist best known for his work as one of the lead writers for Sonic the Comic, as well as writing (and often drawing) the
Decap Attack
strip. His first story was in Issue #4's "Day of the Badniks" and, by Issue #8's "The Origin of Sonic", he had become one of the guiding forces in the comic's development! Naturally, we were thrilled when he offered to depict perhaps the comic's most famous story, the 3 part "
Running Wild
" storyline, starting in issue #80. Don't have nightmares boomers!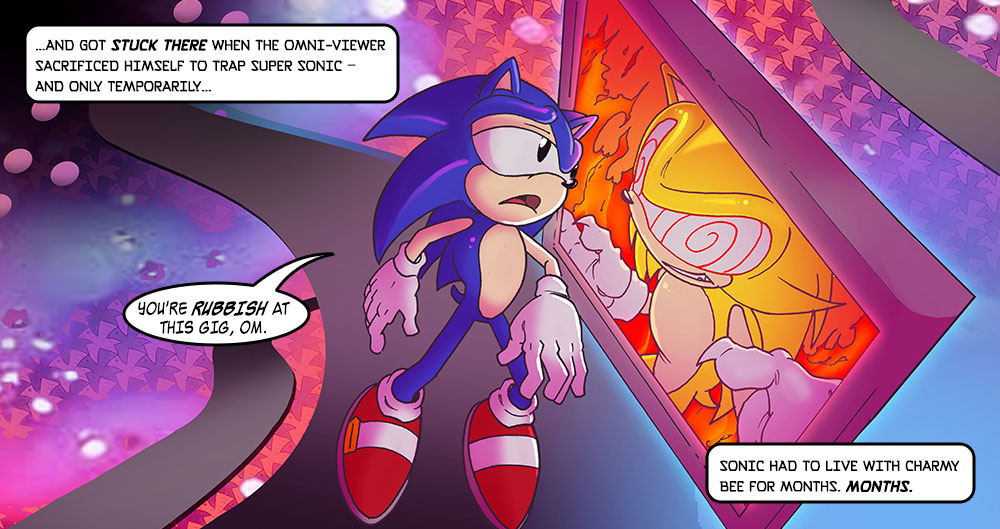 Art by Dawn Best
Well, If you thought we only had one Archie comics alumni up our sleeve to help us tell the story of STC you'd be very much mistaken!
Dawn Best
is perhaps most known as a staff member for Archie Comics that has penciled for their
Sonic the Hedgehog
comic series in the past, beginning in 2001. (Last year of the print STC fact fans! Sob!) She's chosen to represent for us Sonic's time trapped within the special zone, lasting from issue #84's "
Heroes and Villains
" right up until "Doomsday" starting in issue #97 (more on that later I suspect!), the result of Sonic and Super being seperated into two different beings at the end of "Running Wild". Of the numerous perils Sonic faced during this time, perhaps his least favourite was ending up on an adventure with Charmy Bee in issue #91's "
The Hive
" - honestly, the things that Hedgehog has to put up with for the safety of the world!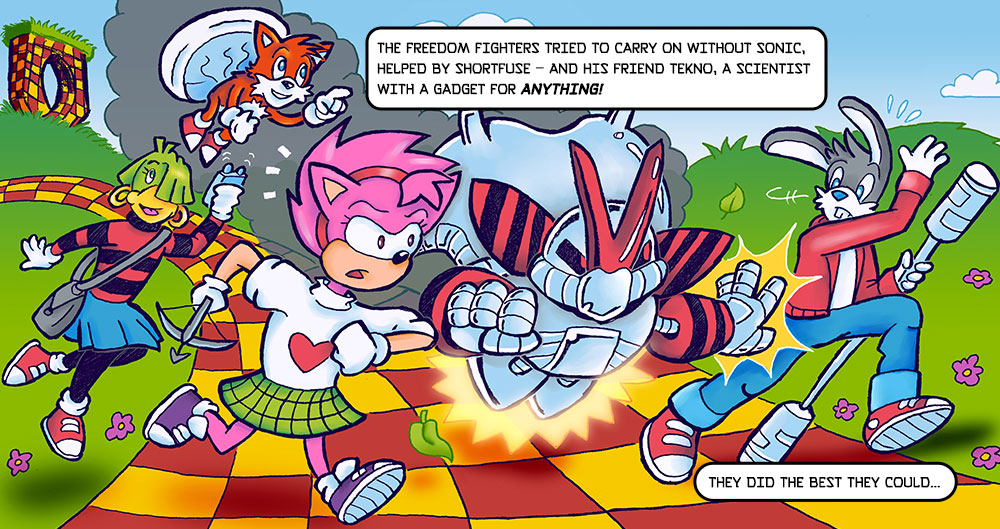 Art by Chris Gould
This panel is drawn by your humble annotations underling, but as I haven't contributed anything of note to the printed comic I'll spare you my biography on this occasion! I got the fun job of drawing the freedom fighter lineup that formed as a result of Sonic's absense from Mobius between issues #84 and #99.
Shortfuse
we've already covered previously, but he owes his updated look here to the bird girl with more gadgets than a branch of Currys PC World;
Tekno the Canary
, who fixed him up with the tweaked armour in her debut story, issue #63's "
Cybernik Strikes Back
." Unfortunatly, having joined in issue #89's "
A New Hope
", Shortfuse only lasted on the team until issue #97's "
Boiling Point
" when "creative differences" resulted in him pursuing a solo carrear once more. However by this point Tekno and her workshop had been well established as part of the freedom fighters Arsenal in the fight against Robotnik so it wasn't all bad news!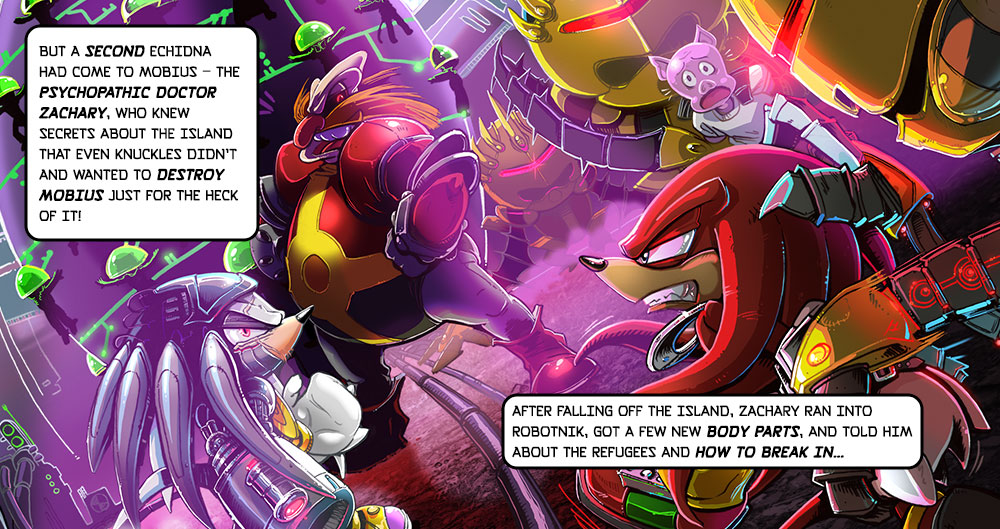 Art by Lynne Triplett
Lots going down in this panel so try to keep up!
Doctor Zachary
made his debut, along with the those ominous yellow
Guardian Robots
, in "
The Homecoming
" between issues #65-68, but this panel actually depicts the events of "
Victims
" taking place in issues #97-99, wherin Robotnik finally discovered the whereabouts of the Emereld Hill Folk hiding on the floating Island (Remember?) with the help of the cyborg echidna, and proceeded to wire them up to become part of a Biological Computer, using The Emerald Hill folk's living brains instead of microchips - things are looking grim boomers, how's Knuckles going to get out of this one?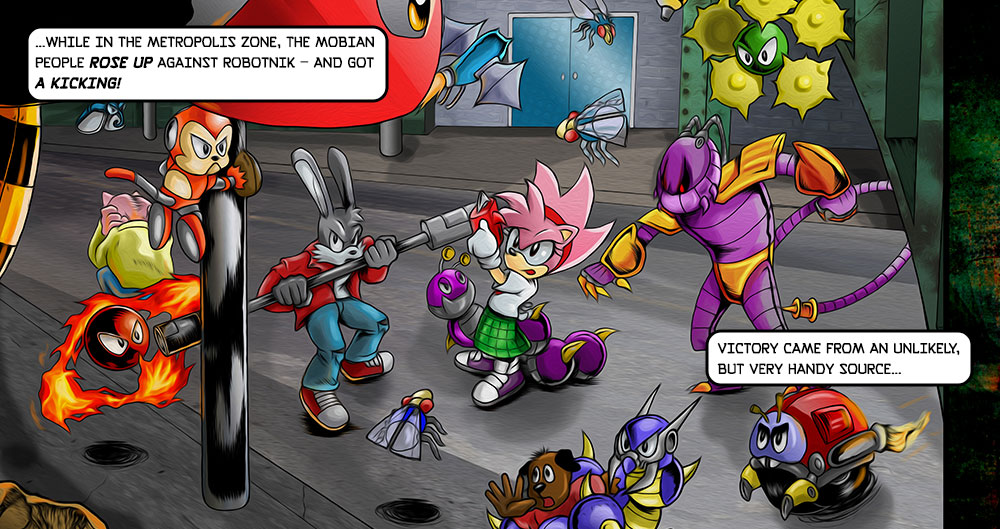 Art by Michael 'Stiv' Stephenson with Matt Dittmer
Meanwhile, this panel depicts how things were developing in the Sonic's world strips, starting in issue #98's "
Solidarity
" and reaching a crescendo in issue 99's "
No Exit
" - The Sonic-less freedom fighters are caught up in riots and facing off against some familiar looking badniks if you're a fan of the classic Sonic games, but one you may not know is an STC original baddie and sometime nemesis of Shortfuse, the villainous
Vermin the Cybernik
, who made his first appearance back in the two part "
Secret Weapon
" starting in issue #90. Between these guys woes and Knuckles problems in the previous panel, how on Mobius will all these disperate plot threads ever manage to resolve themselves I wonder...?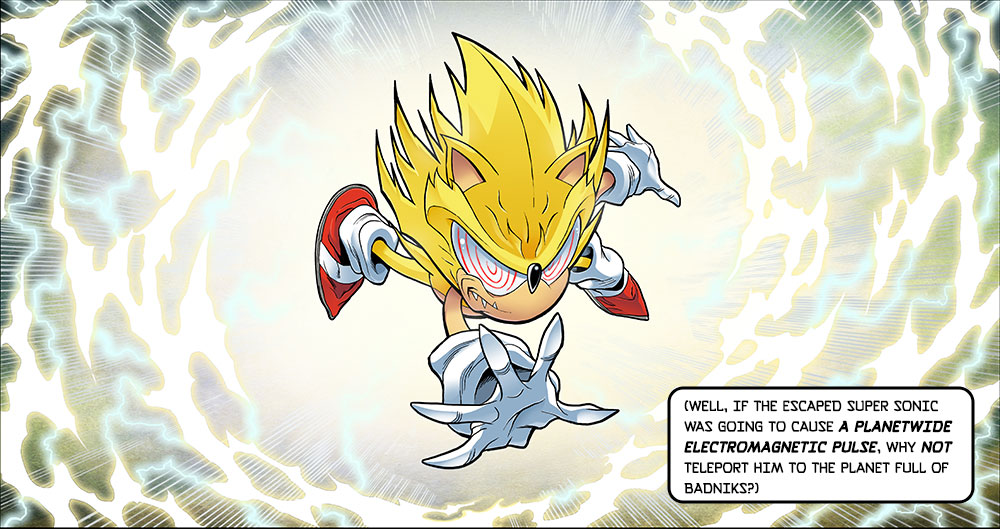 Art by Richard Elson with Pete Murphy
BOOM. You may remember
Richard Elson
from such comics as PRETTY MUCH ALL OF STC, being arguably one of the comic's most widely recognised artists having contributed from as far back as issue #7's complete story simply titled "
Super Sonic
" - I guess it's only fitting then that he should get to share his new interpretation of Super Sonic being the unlikely hero of the hour, but maybe a little bit of story context is probably helpfull at this point for those struggling to keep up? While the omni viewer's plan to imprison the super sonic entity that had become seperated from Sonic (remember him?) inside a large asteroid sounded good in theory, issue #97's "
Doomsday
" revealed that in practise the noble sacrifice had been in vain, and the evil little bundle of chaos energy was in the process of building up an immense amount of energy from within the asteroid and the resulting explosion would knock out all electronic equipment around once he escaped! Our resident quick thinking blue hedgehog instructed Omni to trasport the asteroid to Mobius, providing the help that both Knuckles and the other freedom fighters needed in order to save the day in their own respective storylines! But whatever happened to Super Sonic? (Oh, I expect we'll get back to that in a bit...)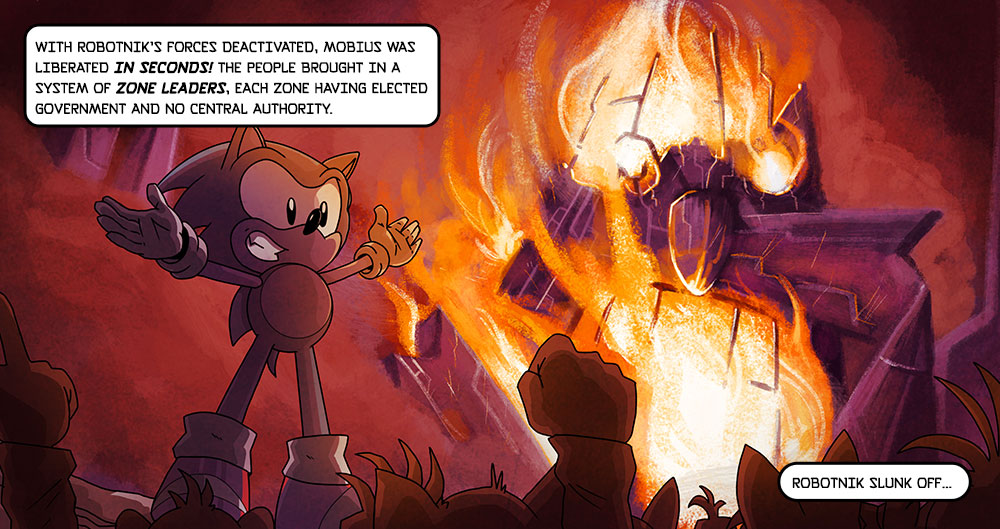 Art by Miles Arquio
The events of this panel and a few of the ones leading up to it form the basis of the plot to the massive crossover storyline "
The Final Victory
" that signalled issue #100's milestone anniversary. The four part storyline all took place inside the landmark issue running across all the regular strips, and resulted in the end of Robotnik's grip on the planet with the both the physical destruction of Citadel Robotnik and the symbolic dismantling of the RBR status quo of the comic which had been in place since issue #9. The concept of Zone leaders was first brought up in issue #101's "
Vote for Me
" and, with varying levels of success, has been the democratic system of choice for Mobians ever since.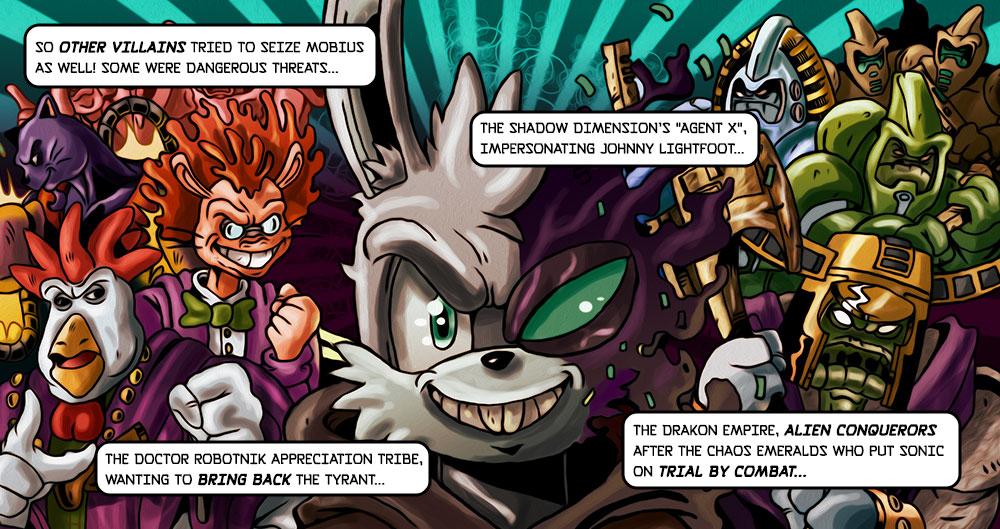 Art by Marcus Stockley and Matt Dittmer
A cavalcade of calamity here, with a panel depicting some more of STC's reccuring rogues, this time post #100. The Doctor Robotnik Appreciation Tribe is more commonly known as
D.R.A.T
and have been coming up with hair brained schemes to get their idol back in power where they believe he belongs since issue #103's "
Crawling From the Wreckage
".
Agent X
was a reccuring minion of old egg breath's who had a few scrapes with the freedom fighters starting in issue #122's "
Root of All Evil
", before appearing to be finally unmasked as dear sweet Johnny in issue #131's "
Shady Characters
" only to in fact be revealed in the next issue as a mysterious shape shifting alien. Needless to say once sonic was able to rescue the real Johnny, the pair made short work of the imposter and sent it packing to its own dimension...
The Drakons
should be a familiar sight to those of you reading STC Online already, but if you want to brush up on your history of the fish based conquerors of space, keep an eye out for their first brief cameo at the end of the "
Flickies Island
" adaptation in issue #106. For their first major storyline, look no further than the four part storyline "
The Evil Empire
" starting in issue #108.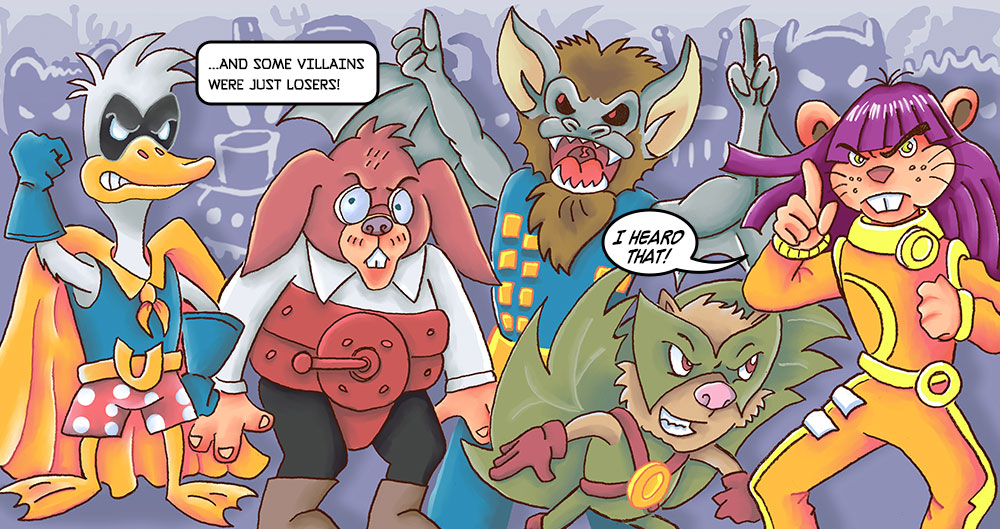 Art by Chris Gould
Well, for every A-list villain Sonic and his friends have had to face there are of course those hopeless hacks who dont quite make the grading system, let alone qualify for D-list status! Regardless, here we highlight a few fan favs who've added to STC's rich tapestry of baddy fodder post #100... From left to right we have the dopey
UltraDuck
, who appeared in issue #128's "
Yesterday's Heroes
," the gormless
Dr Genius
, who appeared in his self titled story in issue #138, the highly strung
Tyson Dense
, who appeared in issue #125's "
Green Envy
," sticky fingered thief
The Leaf
who starred in the two part Tails adventure "
The Fall of the Leaf
" and last but not least, minor reccuring weather villainess
Windy Wallice
, who made her debut in issue #102's "
Unnatural disasters
."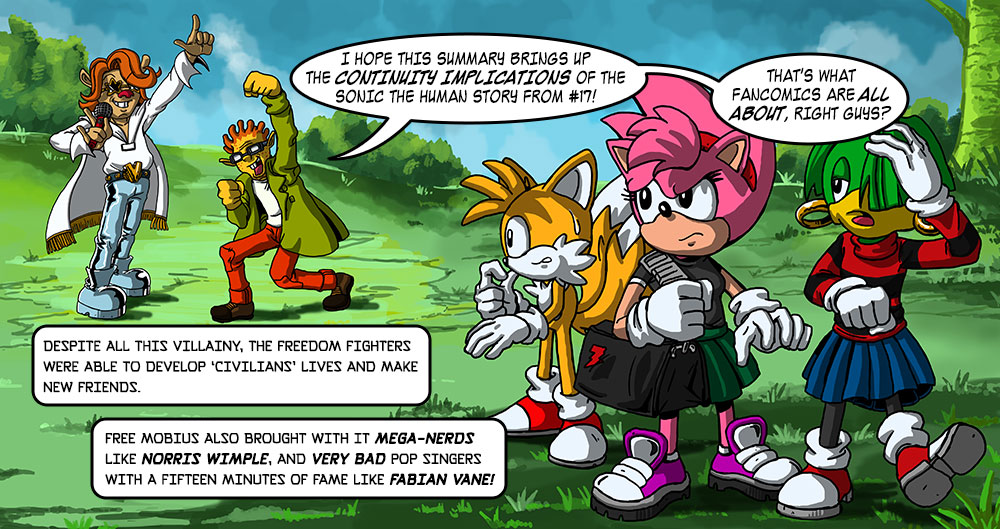 Marcus StockleyNorris Wimple
has very helpfully has given us reason to go wayyyyy back to issue #17 and bring up
Sonic the Human
, a complete sonic story that finds the cool blue one waking up as an earth kid with no sonic spin attack and a parent who seems a little too keen on giving him eggs for tea... as for whatever the continuity implications might be, we'll have to let Mr Wimple explain himself some other time. The Geeky dude in question has been popping up around mobius since making an unamed appearance in issue #102's
Unnatural Disasters
being saved by Sonic, and boasts badnik spotting, photography and trivia quizzes among just some of his extensive repertoire of talents, with varying levels of usefullness to the freedom fighters along the way! The Clueless crooner next to him is
Fabian Vane
, a mobian celebrity with all the musical talent of a kettle, who took his first grand entrance in issue #109's two part story "
Star Struck
." Despite the singer's lack of talent, his self belief that he's actually the best in the biz often resulted in Amy and Tekno crossing paths with him in order to keep him out of harms way! Honestly, with friends like these...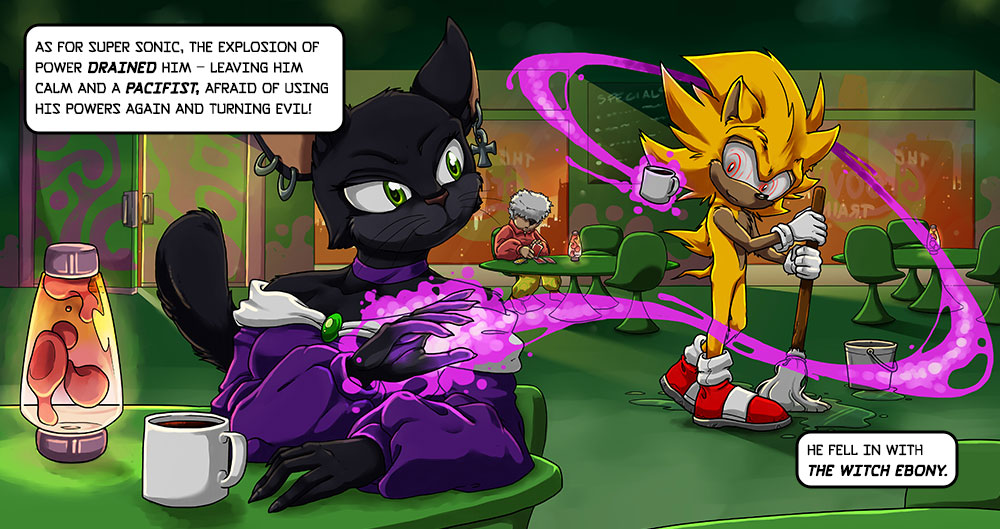 Art by Thalia Evans
Oh right, this guy! I wondered when we were going to get back to him... Super's memory loss and power drain happened in the midst of issue #100's
"The Final Victory"
, but it wasn't until issue #102's "
What Ever Happened to Super Sonic?
" that we discovered his softer side and it was the 3 part "
Hunter & the Hunted
" story which started in issue #116 before he found his way to "The Groovy Train" coffee bar in the Metropolis zone. The owner, the mystical cat
Ebony
and her psychic friend
Pajamas
made their first appearances in the Knuckles story "
Roots
" which began back in issue #94, and the magical moggy made it her mission to protect this pacifist demon from anyone that came looking for him, right up until the end of the comic's print run (but we'll probably get to that later...)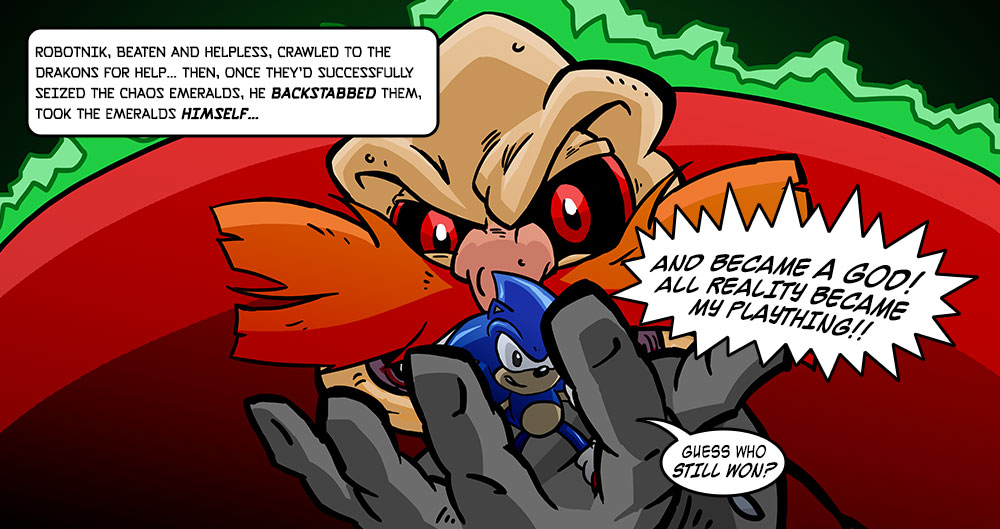 Art by Michael Corker
Oh that Robotnik is really quite a devious fellow sometimes... having charmed his way into the good graces of the Drakons, who we've talked about previously, during the events starting in issue #108's "
The Evil Empire,
" he managed to engineer an elaborate ruse which didn't come to fruition until the final chapter of the 3 part "
Order & Chaos
" storyline, which started in issue #123. Even then, it wasn't until issue #127's epic "
Robotnik Reigns Supreme
" that his god like powers properly manifested and allowed him to warp reality to his whim, culminating in issue #130's spectacular "
Showdown
" a 3 part story running across the whole of the issue much in the same way as
The final Victory
. Against all the odds Robotnik is defeated and once stripped of his emerald energy he shrinks away into nothingness... for now (but as always, we'll get to that later!)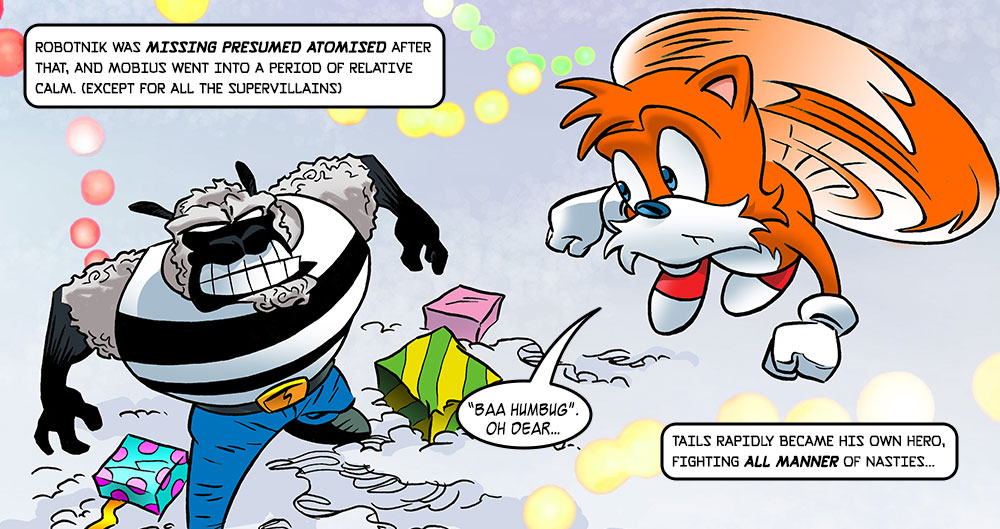 Art by Roberto Corona
Another coo for this project, we're very lucky to have some work from the amazing
Roberto "Bob" Corona
, best known for his work on in the Amy Rose strips as well as occasional Tails and some Sonic stories. He made his first appearance on the comic with the 4 part Tails story "
Zonerunner and the Flock
" starting at issue #35 and was also responsible for drawing the only appearance thus far of christmas themed villain
Baa Humbug
, so it seemed only apt to recreate this scene again for this Robotnik-less chapter in Mobius' history! Tails battled the surly sheep briefly in issue #145's story "
Captain Christmas
" before being muscled out of the way by the strip's titular hero - poor little guy, even when he's becoming a hero in his own right he gets muscled out of the way! As it turned out, all was not quite as it seemed, so Tails got to save christmas after all!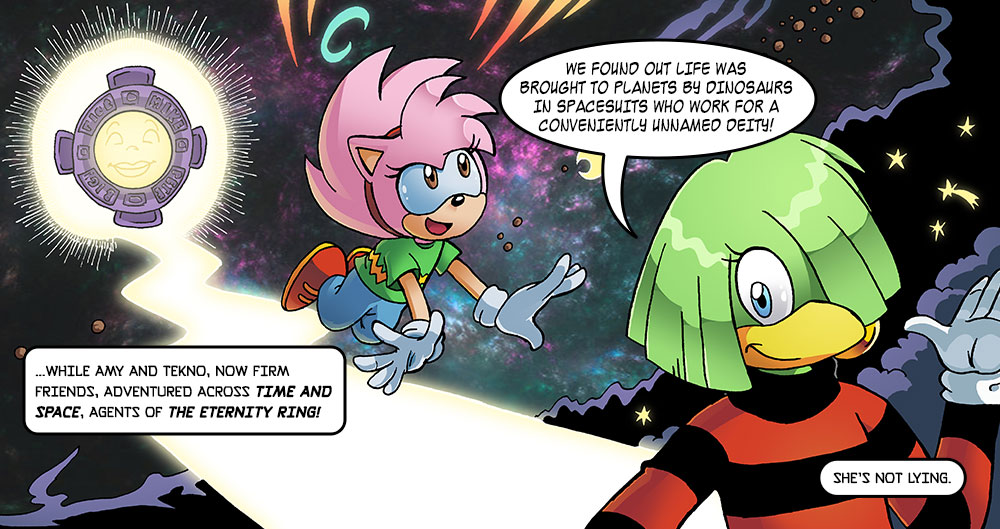 Art by Adamis with Pete MurphyThe Ring of Eternity
(aka Eternity Ring as it's sometimes called) was a sentient device containing a physical manifestation of Planet Mobius' spirit itself! Having met the portal in issue #134's self titled story "
Eternity Ring
," Amy and Techno travelled across space and time on a series of crazy adventures, starting with issue #136's "
Prehistoric Ways
" and lasting up until issue #152's "
Full Circle.
" That wasn't the end for the Ring though of course - as always, we'll probably get to that later...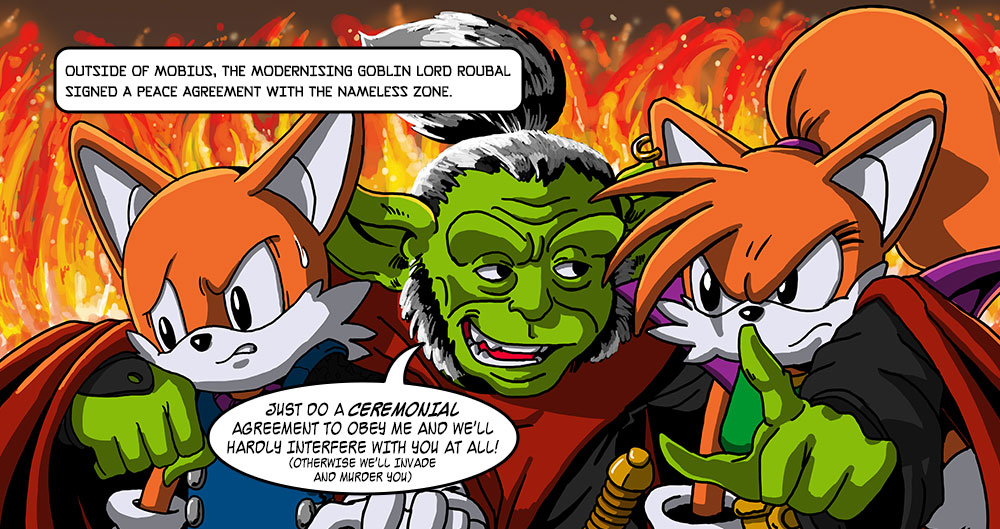 Art by Marcus Stockley
We've covered Tails and his misadventures in the Nameless zone previously, so hopefully you'll recognise his friends
Errol Blackthorn
and his sister
Morain
already. The green fella in the middle is
Lord Roubal
who made his first and only appearance in the printed comic during the two part Tails story "
The Goblin Overlords
," which began in issue #143 and was in fact the last nameless zone story in the comic's print run, resulting in a shaky truce between Tails' home and the Goblin territories in The Land Beyond. If you'd be curious to see what happens next for the Nameless Zone inhabitants, well there's this
online comic
I know that might just be able to help you out a bit there...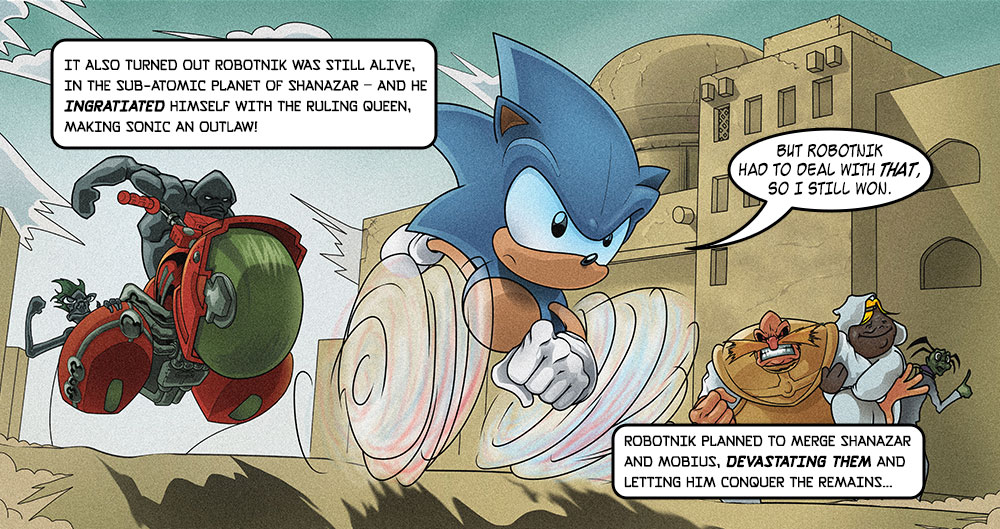 Art by Phil Chapman
So, this panel encapsulates Sonic's time on the microscopic planet of
Shanaznar
, taking place between issues #149-#165 but the seeds of this story arc actually start back in issue #139's "
Whatever Happened to Grimer
" where the faithful hencemen of ol' egg breath begins a cunning plan to find the missing robotnik, culminating in issue #148's "
It's A Small World
" with Sonic chasing after him and arriving in issue #149's story, named after the planet these stories take place on. The royal on the right hand side giving Robotnik a bone breaking cuddle is
Princess Kupacious
, a nasty piece of work for sure, but bessotted with the evil tyrant all the same, so much so that she made him her Grand Vizier during his time on the planet. Giving chase to Sonic in the cool looking wheels we have this arc's other most well known characters in the form of
Death-Trap
, bounty hunters in pursuit of Sonic who made their first appearance in Issue #157. They consist of
Kalus
, the level headed leader made of stone,
Prank
, the vicious maniac able to summon a genie and
Totem Billy
, the scout with amazingly keen sense of smell and long-range vision. Sadly they came to a stony end at the hands of the Medusa (no really!) leaving Sonic to Showdown with his old nemesis once again...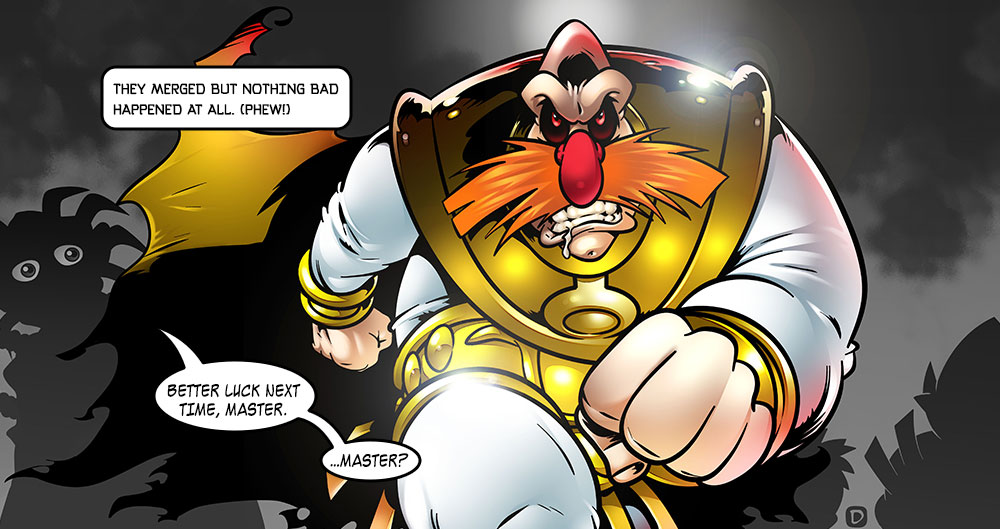 Art by Nigel Dobbyn
Rounding out our matching pair of 'STC alumni with the first name
Nigel
' that we have working on this project, we are pleased to present this panel by the amazing
Nigel Dobyn
, artist extrordinaire on such strips as
Knuckles
(where he made his debut on the 5 part story "The Homecoming", starting in issue #64)
Captain Plunder
stories and providing full art and sometimes just colours for numerous
Sonic's World
strips. The panel itself represents the conclusion to the Shanaznar arc, taking place in the two part story "
Worlds Collide
" which began in issue #164 and united Sonic with his friends and Mobius and once again, bringing along a few new zones in the process! As you can clearly see, all these defeats are really starting to get to poor Robotnik...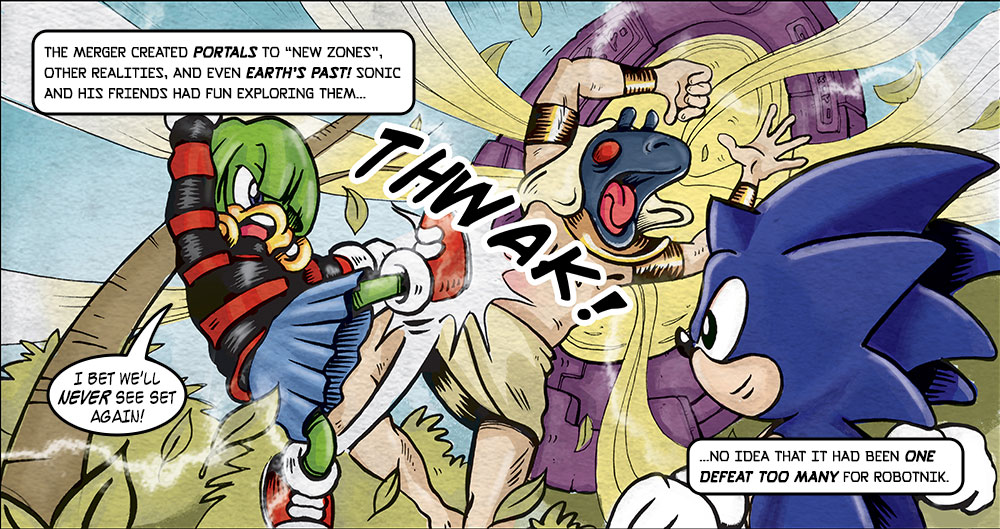 Art by Alex Willmore
We mentioned previously that due to their adventures through time and space with the eternity ring at an end, (remember?) resident gadget gal Tekno found some spare time in her busy schedule to repurpose the gateway for Sonic and Amy. The new look device allowed the pair to go off exploring some of the new areas opened up by the Mobius merger with Shanaznar that had started in issue #166, including for some reason this visit to ancient egypt on Earth in issue #169's "
Secret of the Gods,
" where the Hedgehogs got to meet aliens exiled from their home planet posing as egyiptian deities. With a little help from Tekno back on mobius, it was game
Set
and match for the imposters and that was the end of that...Pity the freedom fighters hadn't been paying closer attention to what Robotnik had been up to while they'd been mucking about exploring...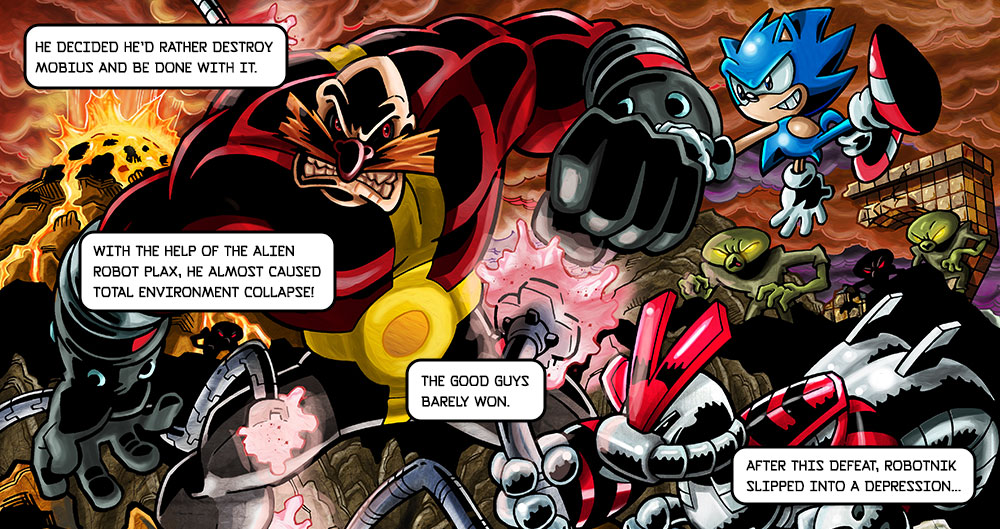 Art by Tracy Yardley with Matt Dittmer
What's that you say? 'Isn't that the bloke from
Archie???
' If by that you mean to enquire if that's the gorgeous lineart of the rather talented
Tracy Yardley
, American comic book artist best known for his work since 2005 with the
Sonic the Hedgehog
comic series published by Archie Comics then yes it jolly well is! Mr Yardley kindly selected to illustrate for us the "
Game Over
" storyline, which started in issue #171 with the story "
Planet in Peril!
" and continued into the two part story of the
same name
, starting in issue #173. The mad doctor may have bought himself some tickets to the gun show by draining the very life force of Mobius to grant him super strength, but it was the living plastic alien androids
The Plax
who granted him the power to bring about total environmental collapse on the planet! This evil race hailed from the microscopic world of Shanaznar and first crossed swords with Sonic in the story "
The Rig
" in issue #159. While the entire hive colony was destroyed by Robotnik before he could be stopped, who knows where a rogue piece of dodgy Magnaz might turn up again... The day was eventually saved by Shortfuse the Cyberkik, with the added bonus of destroying the indestructable suit of armour Shorty had been trapped in for all those years - things were really starting to look up for the good guys!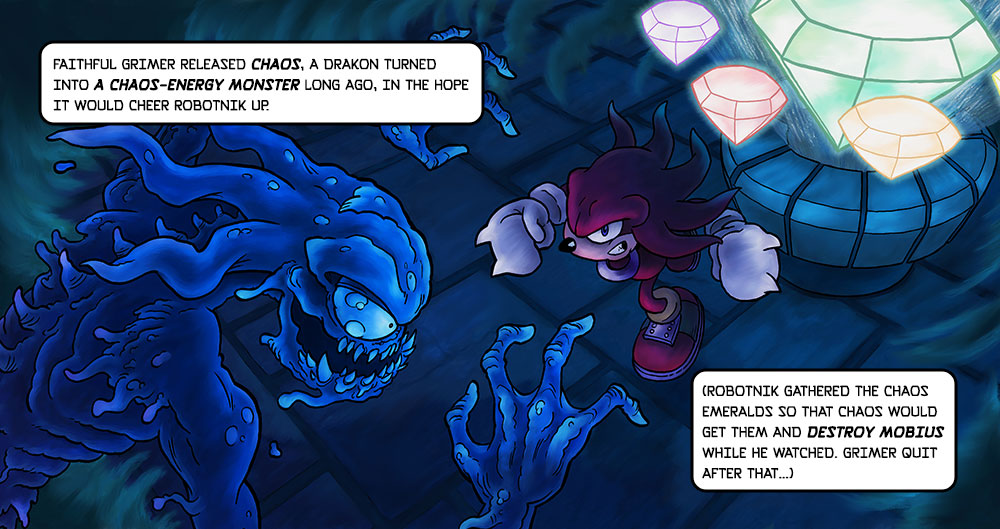 Art by Matthew Bramble
Here we have possibly one of the biggest threats the freedom fighters ever faced during the print run of the comic - it's the entity known simply as
Chaos
! First appearing in Issue #175's "
The Coming of Chaos!
" the character is based on the same one found in the
Sonic Adventure
game and this storyline forms a loose adaptation of that game, up to it's conclusion in issue #184 (but we're getting to that...) The primary defensive mechanism of Chaos is its ability to induce uncontrollable fear in anyone who tries to get close to him - good thing knuckles is trying his best to be fearless here then eh? Grimer meanwhile finally realised that Robotnik was beyond hope and decided to abandon the doctor in that last issue of the print run. If you want to find out what Grimer did next, well might I suggest you try ploughing into the
back issues
of our site?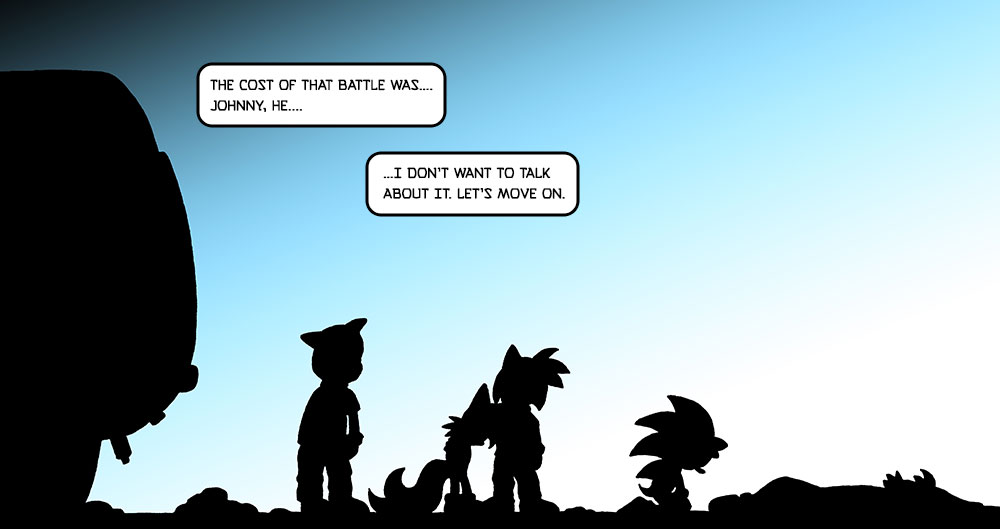 Art by Adamis
A very simple panel for a very powerful moment in the history of the comic, the freedom fighters and most importantly in the characterisation of STC Sonic... It happened in issue #176's "
What Price Victory?
" and saw the shock exit of one of the core members of the heroes who'd been there almost from the start. Johnny Lightfoot's quarterstaff may be gathering dust in a museum somewhere on Mobius these days, but his contribution to the team and the sacrifices he made to protect Mobius would never be forgotten!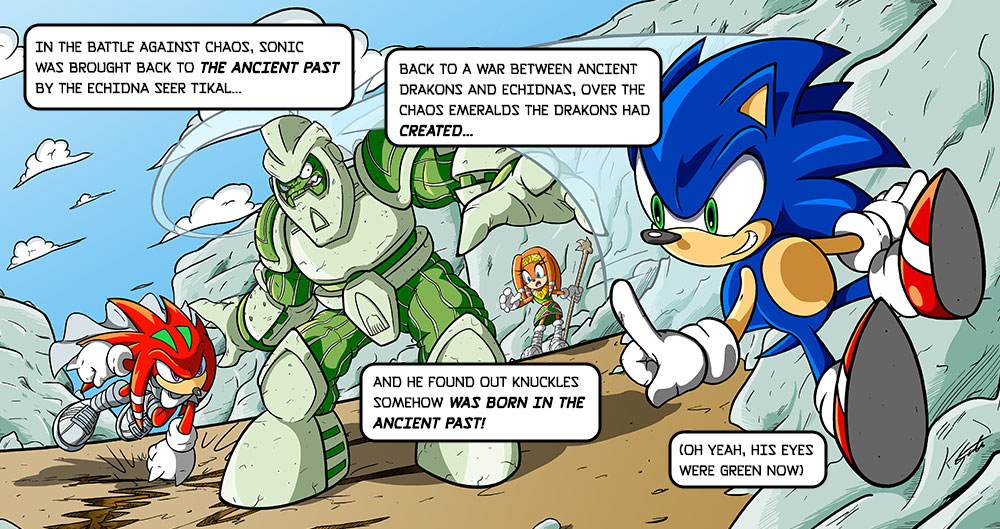 Art by Kieran Gates
Crikey, well this is going to take some explaining! Sonic acquiring green eyes is the result of his coming into contact with the Chaos creature at the end of issue #175's "
The Coming of Chaos!
" - it wasn't picked up again as a plot point until issue #179's "
Out of Time
" where a violet glow he'd been seeing since the eye change turned out to be the Echidna
Tikal
, who makes her first appearance this issue. Having summoned the "champion of the future" back to Tikal's timeframe, this led to a series of stories set in the ancient past where sonic met a past version of Knuckles and the rest of his echidna people before their mysterious disapearance, along with discovering the origns of the chaos creature and just why the Drakons are so interested in mobius, culminating in issue #182's "
War of the Worlds!
" How could Knuckles have lived in the ancient past
and
modern day mobius, with no recolection of Sonic from before? Well, I guess you'll just have to keep reading
STC Online
to find out!
Art by India Swift
This panel depicts the last story of printed STC, issue #184's
"Point of No Return!"
where Ebony and the Pacifist Super Sonic (remember them?) arrived on the scene to save the day and defeat Chaos once and for all by absorbing all the chaos energy in the creature leaving behind the powerless drakon fish who ol' supes discarded quite carelessly - of course, things didn't exactly go to plan after that and now thanks to Ebony sonic and Super Sonic are one and the same yet again - naturally, you'll have to keep reading
STC Online
to find out if any of those plot points will be coming back to cause problems in the future for the cool blue one!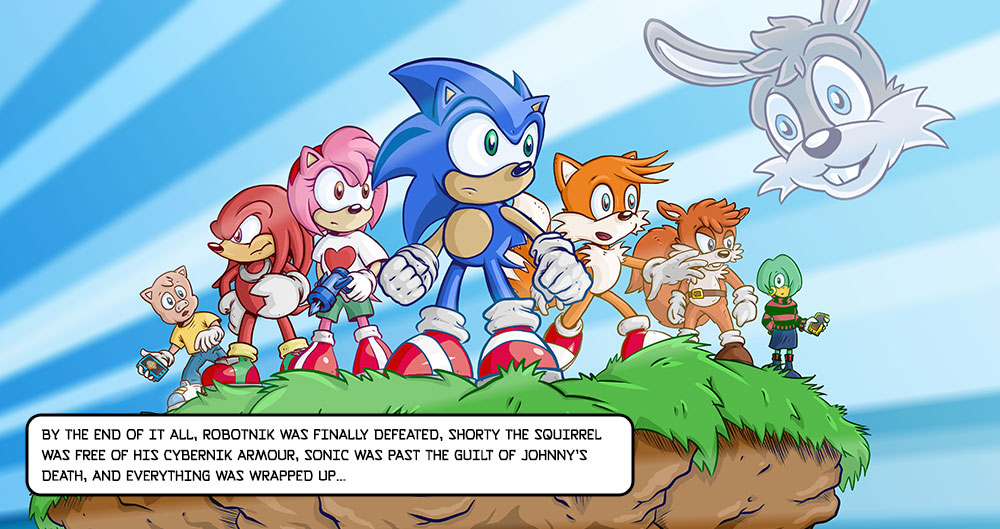 Art by Michael Corker
So, here we are then - this panel pays homage to the very last image of issue #184's
"Point of No Return!"
This was final installment of the printed comic's continuity before the publishers moved the publication over into full reprints, from issue #185 all the way up to the very last printed comic which was issue #223 - sad times!
Shorty the Squirrell/Shortfuse we've covered previously but it's worth clarrifying here again that he was freed from his armour at the end of the two part story "
Game Over
", which started in issue #173, which was the storyline before the Chaos saga kicked off. So that's it, all done and dusted right? Well of course, if you've been paying attention you'll know that
our
story doesn't actually end here...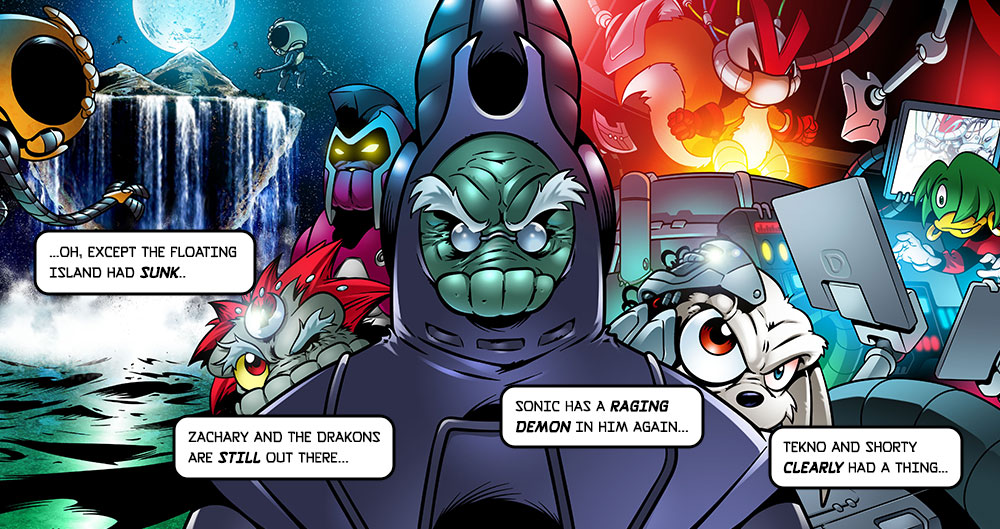 Art by Nigel Dobbyn
This is STC alumni Nigel's second panel for our timeline project, so we've already covered his numerous amazing contributions to the comic over the years - instead, lets focus on what's going down in the scene he's chosen, which is the first of our little "prelude" panels to set you up for reading our very own STC Online, continuing on the original comic's issue numbering, starting at
issue #224
! From left to right, we have the raising of the floating island (It sank back in issue #178's aptly titled
"Splash-Down!"
) as well as Drakons in the form of
Sister Haggra
and
Master Scholar
, ruler's of The Drakon houses of Magic and Knowledge respectivly, who made a brief first appearance in issue #116's
"Best of Enemies"
. Behind them peaks the beady eyes of Dr Zachary who we've mentioned in a previous set of notes, but it's worth stating that he evaded capture way back in issue #100's epic "The Final Victory" and hadn't been seen since then... Last but by no means least, you can see Shorty and Tekno in the background putting together new shortfuse armour - you can pick up their story thread in STC Online issue #232's
"Return of the Cybernik!"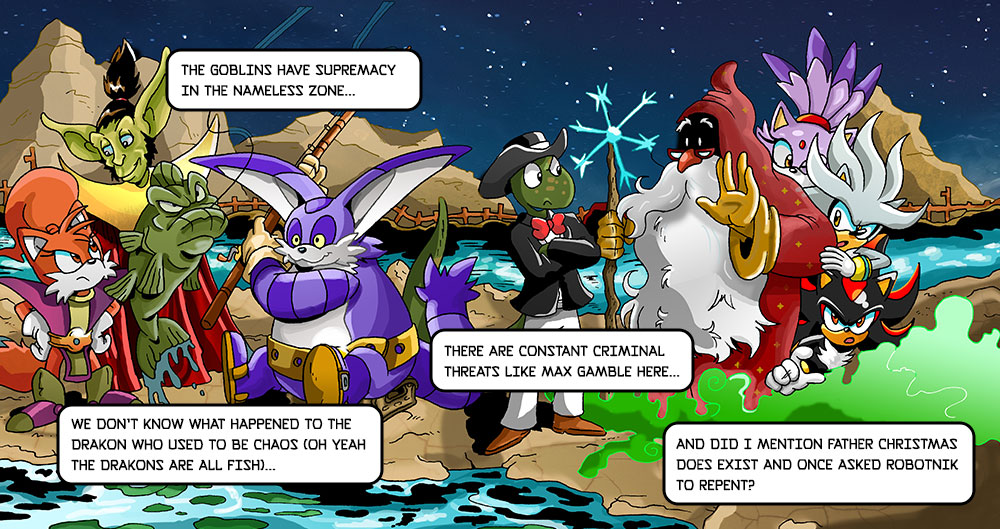 Art by Adamis with Matt Dittmer
This is the second of the STC Online prelude panels and from left to right again we have Morrain and Lord Roubal, who we've covered previously but its worth telling you here that the Nameless zone storyline which they represent here continues in STC Online from issue #234's "
Journey to the Crossroads
". Fans of Sonic Adventure will recognise
Big the Cat
, who made a very brief cameo at the end of the comic's print run in issue #184, seen here hooking the drakon fish that was once the Chaos entity - what could possibly go wrong here I wonder? Next along is "legitimate businessman"
Max Gamble
who first appeared back in issue 85's "
Scream Theme Park
" and has been scamming Mobians ever since... Father christmas is... well, I hardly need to explain who he is do I? If you'd like to see his first appearaence in STC though, look no further than issue #93's "
Season of Goodwill
" - lastly, just peaking round the corner of st nick's robes is a trio of characters from the games who make their debut within the pages of STC online - keep your eyes peeled for
Blaze
,
Silver
and
Shadow
all getting a very STC take on their characters in the upcoming issues!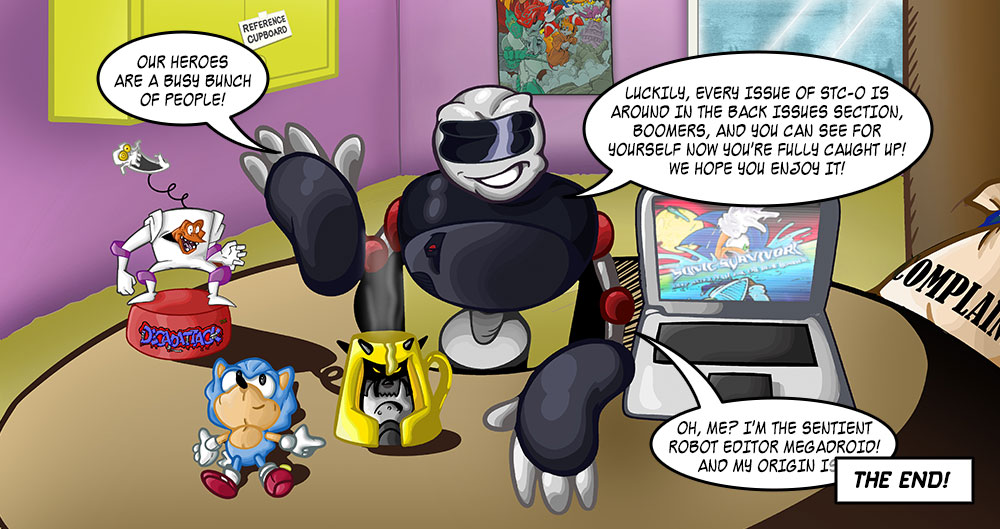 Art by Sonicmark
Flippin' 'eck we've finally reached the last of our panels (for now!) and we really couldn't do a summary of the comic without mentioning the editor in chief, the one and only
Megadroid
, who has been something of a regular fixture all the way from issue #1 and although he took a break from issue #140, the electronic editor in chief makes his triumphant return once again in STC Online! Megadroid has verious roles on the comic which include welcoming
boomers
to every issue in the control zone, answering letters in speedlines and keeping the
Humes-who-think-they're-in-charge
in line. Megadroid also sometimes interjects during the strips in order to provide notes on continuity, often reminding readers of which back issues they might need to brush up on to follow the action. We also need to give a special mention to the model on Megadroid's desk of
Chuck D Head
, one of the characters in STC's most popular Sega Superstars strip seperate to the Sonic continuity,
Decap Attack
. Frankly, that strip alone could fill a summary comic all of its very own, but to read it from the beginning check out
issue 10
for Chuck's crazy origin story and the beginning of that cast's bonkers adventures! Over on the laptop next to Megadroid you'll notice the front cover to STC Online's first release, namely
issue #224
and well, it's as good a place as any to round this summarry project off and let you start your STC Online adventure in earnest! We hope you enjoy it and I hope these added notes have been useful to you as well!
-----------------------------------
That's all for now folks, but be sure to check out the back issues to see where the story continues from here!