Post by Beeth on Feb 6, 2013 1:33:52 GMT
Having done a fair amount of browsing on Steam Greenlight, I've found a number of indie titles which I find personally appealing as well as promising enough to warrant an upvote. As for the rest of them, there may be some that don't appeal to me, or are simply too crap to warrant support. In most cases I've left them alone. However, there were a handful of really horrible submissions that were particularly appalling and/or offensive enough to warrant a downvote.
And so, because people enjoy a good moan, a one-off item in which I list the 5 worst Greenlight offenders of the moment, in ascending order. Have fun.
5: Rocketgirl
The first hint that this is a pile of naff should be apparent from the fact that a scantily-clad female (straddling a rocket of course, as per the title "Rocketgirl") is being used to draw attention to the game. A crude and tacky method which nine times out of ten, is evidence that the product behind it is at best underwhelming, at worst an offensive disaster.
Rocketgirl manages to surpass even that expectation. It is insane, and not in a good way. It looks cluttered, thoroughly amateurish and disgraceful, in the quite literal sense that it lacks grace of any kind. In all honesty though, words can't do justice as to how ludicrous this title actually is.
So have a look for yourself.
The submission fee for Steam Greenlight was implemented specifically to deter chaff like this. It just goes to show, though, that some people have more money than sense, and indeed sanity. I will find it hilarious rather than tragic if it does inexplicably get the go-ahead, though. Best of luck to the author, he'll need it!
4: Deer Hunt Legends
Personally, I'm not keen on the idea of hunting animals for fun, or "sport" as some try to delicately put it. So the idea of a game that promotes the concept of murdering animals for no reason whatsoever, endangered ones at that, is understandably repulsive.
I'm not saying that this game will encourage people to take up hunting, that'd be like saying so-called "violent video games" turn people into killers, which is and always will be a ridiculous claim. Though I wouldn't be suprised if a majority of people who are interested in this game already hunt for sport, or are at least interested in doing so. Some farfetched and out-of-place inclusions aside, such as dinosaurs, the way this game's been designed seems a bit too much on the "taking itself seriously" side for me to be at all comfortable with its existence.
3: Let's Get Fiscal
Once again, the old "girls in swimsuits mostly unrelated to the game" advertisement. And predictably, the game behind it, what little we get to see of it, is a shoddy and rather juvenile scrolling beat-em-up. The reason for this game's inclusion and position in this list, however, isn't so much the game itself as the appalling conduct of its author. Here's a little gem he posted in response to a significantly more civilised comment:
"I think you're going to sit around and call other people's hard work [censored]. So eat another pack of Doritoes, you lazy jerk."
Baller Industries there, on record as resorting to name-calling as a response to a valid criticism. In fact, he goes on to pretty much discourage criticism altogether with a later reply:
"But I am also right, that it is difficult to make a video game and you shouldn't criticise so freely."
So let me get this straight: He's saying we shouldn't criticise a video game, or other piece of media, because it's difficult to make? Funny, because that's kinda what people have been doing since entertainment began. By submitting this game to Greenlight, one opens their product up to the judgement and criticisms of other people, rendering his application baffling. Also of note is that they've taken specific quotes from what are clearly scathingly negative articles in a vain attempt to make them look like approval, followed by a single glowing and gushing quote at the end... from the author himself. Yeah.
This does not deserve to be greenlit, and neither does any other product of this egotistical shovelware peddler.
2: BoneTown: Mature Edition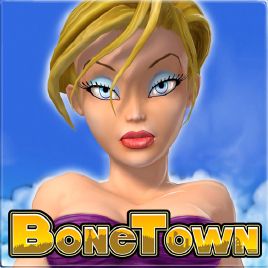 All you need to know is that this a toned-down, self-censored version of an "adult" game that has apparently been out a while already. Its very existence is completely redundant, clearly the only reason this has been submitted to Greenlight is to promote the original uncensored version in a very underhanded way. I, like undoubtedly many other browsers of the Greenlight listings, would not have been aware of this title at all were it not for this shameless publicity stunt.
I have no idea how the initial process of submitting a game to Greenlight works, so I'm not sure whether they get adjudicated or not before going live. If so, I seriously question the adjudicator's decision to let this through. If not, why hasn't this been pointed out and reported yet? Such a title has no place on the Steam platform, censored or not. Someone at Valve should give their head a shake for letting this one through, though I fear they may be too busy giving something else a shake.
1: Higurashi When They Cry
I have no words for this. I wouldn't care to waste any.
If this ever gets greenlit, I'm leaving Steam forever.